Companies
Watch: Jacob Martinez Speaks at Tech Meetup at the White House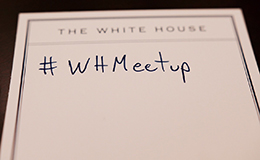 By Sara Isenberg
Editor-in-Chief, Santa Cruz Tech Beat
April 18, 2015 — Watsonville, CA
He's back at the White House, again!
Last week, Santa Cruz Tech Beat published "Mr. Martinez Goes to Washington" about Digital NEST Executive Director Jacob Martinez's trip to The White House with some NEST students and their teacher and mentor.
Martinez was back the White House for the second time in two weeks to speak at the first ever White House Tech Meetup, hosted by the Office of Science & Technology Policy.
Top community and tech organizers from across the United States convened last Friday at the White House for the special Meetup, hosted by US CTO Megan Smith. The invited organizers were welcomed by representatives from the National Economic Council and the Obama administration's Tech Hire initiative.
Watch Jacob Martinez speak at the White House Tech Meetup (video starts at 1 hour, 45 min, 45 sec):
###
Tagged Digital Nest, Jacob Martinez