Companies
Back to Silicon Beach: With a new wave of startups, the future of Santa Cruz tech looks more promising than ever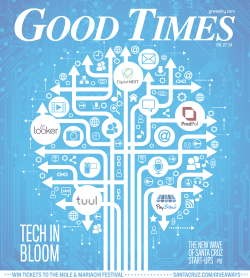 by Aric Sleeper
Good Times
(Graphic by Joshua Becker)
This Good Times article captures current examples of growth in local tech: Looker, PredPol, PayStand, Tuul, Digital NEST, and more.
Atop downtown Santa Cruz's ornate E.C. Rittenhouse building—with its frieze of wreaths and rams' heads, and bronze gryphon guardians—the steel skeleton of what will be tomorrow's tech fortress takes shape. Within the once vacant walls of the building's fourth and top floor, Looker, a big data startup, is building its new home.
"It's a beautiful space," says Looker's CEO, Frank Bien. "Even one of the designers that we have that is actually from San Francisco, and has done a lot of the tech spaces in San Francisco, came down and said it is probably one of the nicest spaces they have ever worked with."
Since GT last spoke with Looker in March, the company has grown from around 40 employees to more than 60, and plans to employ 90 to 100 by the end of the year. Looker has also expanded its customer base substantially, and currently boasts more than 100 clients worldwide. After increasing its office space three times since it moved into the jointly owned headquarters of Cruzio and Ecology Action in downtown Santa Cruz, Bien and his colleagues realized it was time to seek out new digs.
"We're out of space here. There's no more to be had, which is why we're going over to the Ritt," says Bien.
Amid an explosion of global companies working in the big data realm, Looker is one of the fastest-growing in its field. Bien attributes the company's success to the differentiated way it deals with data, and the actual demonstrated value he and his team are able to provide their clients in a short amount of time.
Continue reading full article here: http://www.gtweekly.com/index.php/santa-cruz-news/good-times-cover-stories/5887-back-to-silicon-beach-.html
###
Tagged Digital Nest, Looker, PayStand, PredPol, Santa Cruz Good Times, Tuul