Companies
Digital NEST Celebrates New Watsonville Location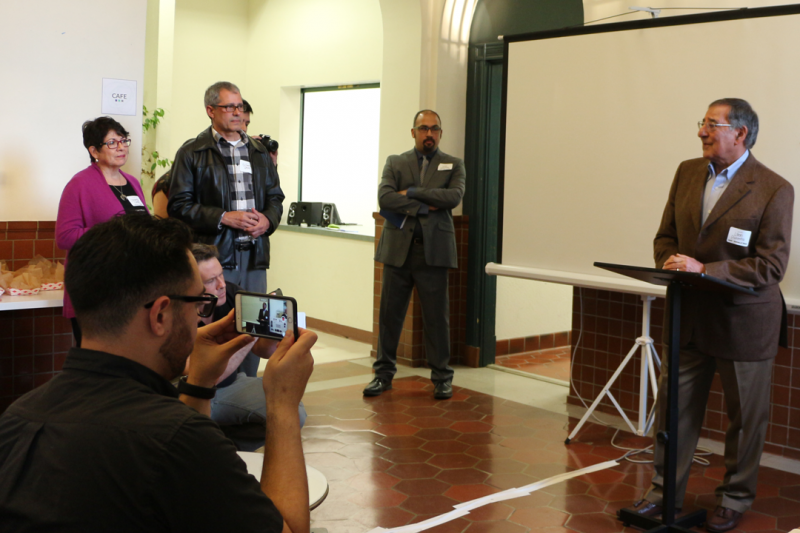 By Ryan Master
Santa Cruz Sentinel
(Photo above: Jacob Martinez, Digital NEST Executive Director, (left) listened as guest speaker Leon E. Panetta spoke to student members, donors and the board about the importance of technology training. Credit: Jan Janes Media)

January 25, 2016 — Watsonville, CA
During his keynote address at the soft opening of Digital NEST's new downtown Watsonville location Sunday, former Secretary of Defense and CIA Director Leon Panetta described the United States as a country at a crossroads.
Whether the nation decays into mediocrity or blooms into a 21st century renaissance depends largely on its leaders and their ability to provide young people a chance to succeed in society, he said.
"It depends on how we educate young people and whether they're able to fully participate in our democracy, and that's what I think Digital NEST is all about," Panetta said.
According to Digital NEST founder Jacob Martinez, the youth tech incubator's move into the old post office on Union Street in downtown Watsonville is just the first step in what he envisions as a statewide movement to level the technological playing field across all strata of society.
"I didn't visualize Digital NEST as a Band-Aid to meet localized needs temporarily," Martinez said. "In five years I fully expect us to not only be sustained here in Watsonville, but operating five to 10 new locations around the state."
Continue reading article: http://www.santacruzsentinel.com/technology/20160124/youth-tech-incubator-celebrates-new-downtown-location
Tagged Digital Nest