Companies
DeepBlaster: When Robotics AI meets a Nerf Blaster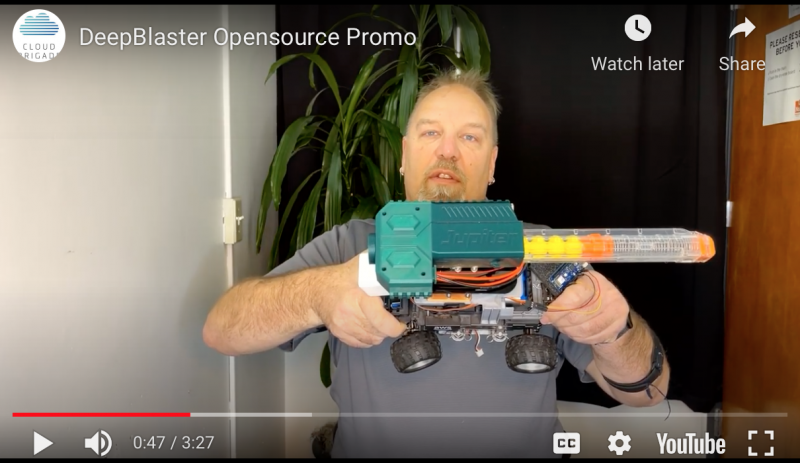 By Chris Miller
Cloud Brigade
April 28, 2021 — Santa Cruz, CA
Announcing the Cloud Brigade DeepBlaster Project. The DeepBlaster Controller software allows anyone to extend the functionality of AWS DeepRacer with servos, sensors and other gadgets, allowing you to build anything imaginable on top of this self driving 1/18 scale toy car.
Open Source Robotics
When the AWS DeepRacer team approached us for ideas to promote their new Open Source Software initiative, we didn't disappoint. DeepBlaster is a software and hardware package that extends the AWS DeepRacer platform.
AWS DeepRacer is a 1/18 scale autonomous self driving car. Originally launched at AWS re:Invent 2018, the purpose of DeepRacer is to provide a fun way for software developers to learn Machine Learning (ML) principles, thus making it easier to grow the pool of Data Scientists which are in high demand.
The Problem
The AWS DeepRacer car requires a large track to be constructed to test your "self driving" ML model. The cost and effort of building or buying a track was a barrier for entry for many developers. AWS needed a way for people to use the car without a track.
The Solution
Releasing the DeepRacer software as Open Source would allow people to find new ways to use the car. Now they just needed some ideas to fuel the creative juices of this new pool of would-be Data Scientists. AWS approached a few of us in the DeepRacer community to brainstorm over what kind of sample projects could be developed.
Continue reading here: https://www.cloudbrigade.com/deepblaster/
###
Tagged Cloud Brigade