Companies
Ever wonder why it takes a half-hour or more to travel 2.5 miles on Mission Street?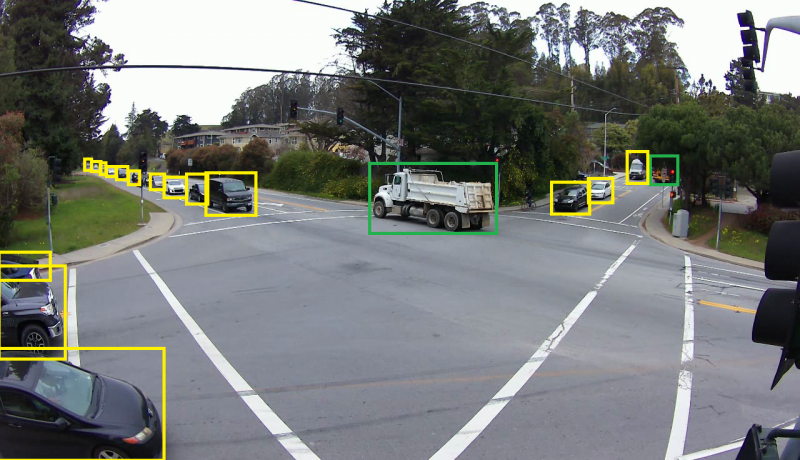 By Matt Paterson
Data Scientist, Cloud Brigade
January 14, 2021 — Santa Cruz, CA
(Image above: Source: Cloud Brigade)
Machine Learning Gives Santa Cruz Traffic the Green Light
"All these cars are just backed up from Bay Street, and it just doesn't make sense. There has to be a better way to streamline the flow of traffic." — Chris Miller, CEO/Founder, Cloud Brigade
The traffic lights only seem to laugh as you watch them cycle through from green to red without putting your car into gear. The Cloud Brigade team knew using a Machine Learning solution would deliver a better way to streamline the flow of traffic.
Background
Traffic light systems around the world are run on either timers or sensors. Neither of these systems are responsive to dynamic traffic conditions such as a change of importance in light sensor sensitivity and timing at different times of day, or when various levels of throughput are desired. We wanted to use Machine Learning technology to maximize throughput while minimizing wait times of entire intersection traffic light systems in real time.
Business Challenges
Irresolvable Complexity – Simply turning all the lights green at the same time on Mission Street ignores the traffic crossing or entering from the side streets
Inefficient Systems/Processes – It should not take so long to get to the grocery store or home from work to see your family–this is a 4-lane road in a city of 65K
Skills & Staffing Gaps – It really doesn't make monetary sense for the city to hire on a set of full-time Software and Traffic Engineers to solve this one problem
Antiquated Technology – Using Traffic Signal Light (TSL) timers or metal/motion sensors at the intersections only exacerbates the existing congestion, especially during tourist seasons
Solution and Strategy
Cloud Brigade had already started looking at ways to use Computer Vision and a Reinforcement Learning model in tandem when it built its front-lawn defender, the Poopinator. Cloud Brigade had proven it could think outside the box on complex projects and brought its "A team" to lead the development and design of an end-to-end IoT product that runs multiple AI models to control the traffic light signals and respond to changes in real time, alleviating traffic wait times by reducing queuing and maximizing throughput.
The Locals Were Getting Restless
For years, Mission Street has become a bogged-down, carbon-monoxide-producing, loud-exhaust harboring nightmare for anyone trying to leave town north on route 1, or just get to the grocery store. The current technology that runs traffic regulation, Traffic Signal Lights (TSL's), is antiquated and to hire engineers and work crews to overhaul the whole system involves excessive operational costs at the local level. The Cloud Brigade team knew there was a better economical, scalable and reliable way.
This Was No Ordinary Project
Chris Miller, founder and CEO of Cloud Brigade, has been a Machine Learning guru for a few years now. Machine Learning is the process of building mathematical and software models that help a computer "learn" how to complete a task, and Computer Vision applies Machine Learning techniques to camera images. In the winter of 2019-2020, Chris found himself again waiting too long on Mission Street. Talking about his process, he explains "All these cars are just backed up from Bay Street, and it just doesn't make sense. There has to be a better way to streamline the flow of traffic."
Continue reading here: https://www.cloudbrigade.com/smart-traffic-using-machine-learning/
###
Tagged Cloud Brigade, machine learning