Companies
Parallel Flight Technology Lifts Off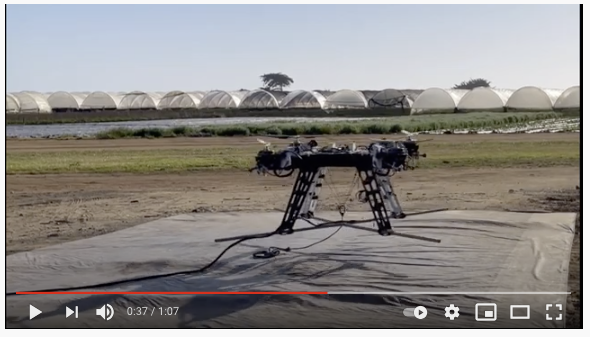 (Source: PFT newsletter and YouTube)
April 21, 2021 — La Selva Beach, CA
Parallel Flight Technologies' beta-level aircraft had its first flight on April 19, 2021, the same day as NASA's Ingenuity Mars helicopter took its first flight.
Our beta-level drone has successfully completed its first flight.
This is a groundbreaking moment for Parallel Flight Technologies, and our first flight occurred on the same day as the historic first flight of NASA's Ingenuity Mars Helicopter. One small step for our drone, one giant leap for drone-kind.
Our beta-level drone is seen flying a low "hop" in this video. Like a baby taking its first steps, the aircraft is still going through a tuning process to get everything right for longer, higher flights in the future. The flight controller is learning about the weight and balance of the drone and the performance of the engines. The aircraft is tethered for an abundance of caution, like a parent holding a child's hand to stabilize first steps.
The extensive and sophisticated Hardware-in-the-Loop testing that we've been running over the last month has helped us develop our flight model very quickly, enabling this first flight. Now, the aircraft will head back into reliability testing as we continue to progress toward more flight tests over the next month.
Through this first flight demonstration, we have fundamentally de-risked our new parallel hybrid technology. This drone is leaps and bounds ahead of the prototype we flew last year in terms of system architecture, flight controller and hybrid power modules.
Parallel Flight Technologies is going to the next level, and we want you to take this journey with us. If you haven't invested in our Regulation A+ campaign on StartEngine, now is the time to invest and own a stake in this game-changing technology.
###
Tagged Drones, Parallel Flight Technologies