Companies
Monterey Bay DART Initiative builds momentum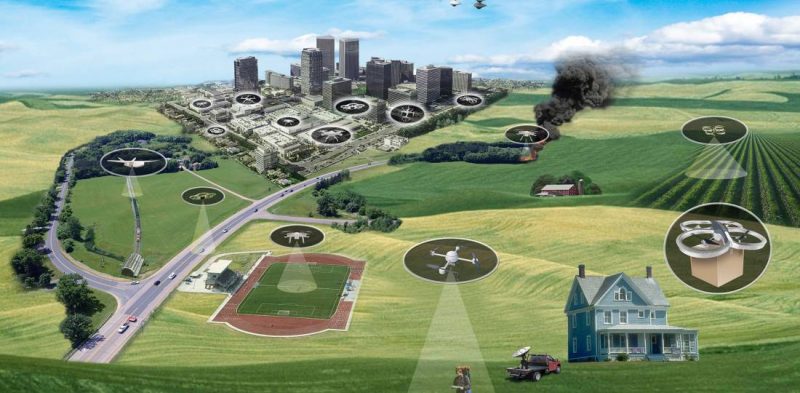 (Source: FORA/DART website)
January 15, 2019 — Seaside, CA
The Monterey Bay Drone, Automation & Robotics Technology (DART) initiative is a regional economic development strategy to focus on these current and future growth sectors for new venture formation, jobs growth and regional vitality. The DART initiative grew out of a multi-sector partnership established in the fall of 2017 to respond to the Federal Aviation Administration (FAA) call for Unmanned Aerial Systems (UAS) Integration Pilot Program (IPP) responses. Led by the Fort Ord Reuse Authority in collaboration with multiple public and private sector partners including the City of Marina, the University of California, California State University, Airspace Integration, Joby Aviation and many others. While unsuccessful in gaining the UASIPP designation, the partnerships established during the proposal development phase, and demonstrated market demand for drone testing and innovation spaces, led to a concept revision and expansion, and the current initiative.
The DART vision is establish & operate world-class Drone, Automation, Robotics Technology  testing & development cluster in Monterey Bay region.  It is envisioned that multiple partners and organizational structures will be necessary that leverage the strengths of each sector (Industry, Government and Academia) to realize broad economic gains and regional vitality.
An initial step towards this vision has been the formation of the Monterey Bay DART non-profit organization with the mission to:
Connect. Convene stakeholders stakeholders to coordinate action, advance projects, and establish productive cross-sector partnerships;
Fund. Identify, pursue and secure public and private funding to support research & development, infrastructure improvement and venture creation/growth;
Educate. Host industry and educational forums. Contribute to regional workforce development efforts. Promote curriculum development and education; and
Advocate. Safe, appropriate market, facilities and airspace access.
Key building blocks for achieving the DART vision include:
Connecting existing and growing/attracting new community members;
Continual focus on safety across all operations;
Establishment of locations and facilities for R&D, and new venture growth;
Access to capital with domain knowledge and enthusiasm;
 Identification of and access to growth markets;
Strengthening of regional workforce to meet industry demands;
Cultivation of an innovation ecosystem, leveraging institutions of higher education and industry R&D;
Awareness and innovation in public policy and law to support safe and appropriate technology integration.
The Monterey Bay is ideally positioned as a place for the cultivation and growth of the DART industries. Located a short drive from the global tech and innovation hub of Silicon Valley, directly adjacent to the wide open Pacific Ocean, and at the mouth of the Salad Bowl of the World in Salinas Valley, with a skilled and educated workforce, the Monterey Bay offers many unparalleled opportunities for these cleantech industries.
Continue reading here:https://ordforward.org/monterey-bay-dart/
---
From Monterey County Business Council newsletter:
The DART initiative was featured in the Drones and Airspace Innovations Round-table Discussion at the November 30, 2018 MBEP State of the Region Conference, and a write-up on that meeting was recently featured in Santa Cruz Tech Beat.
The DART initiative is actively working to establish key projects and community. There are a number of ways to engage in the months ahead, with more being planned:
DART Meetups beginning Tuesday Feb. 12 6-8 p.m. at UCMBEST, then continuing every 3rd Tuesday of the month;
UC Ag & Natural Resources, 2019 Drone Camp, June 17-20 at UCMBEST & CSUMB University Center;
1st Monterey Bay DART Symposium, June 21 at CSUMB University Center.
###