Companies
Christmas trees delivered by drone?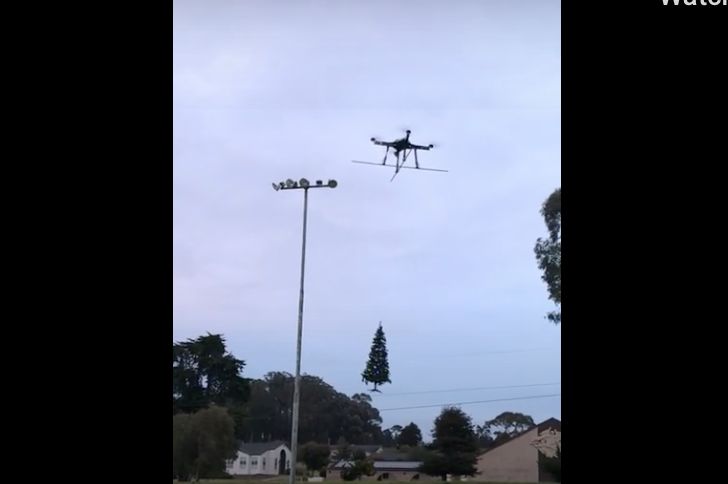 (Source: Parallel Flight Technologies)
December 17, 2020 — La Selva Beach, CA
Stuck inside for the holidays? Parallel Flight Technologies will deliver your Christmas tree by drone!
Okay… maybe that isn't true. But it is possible through PFT's game-changing drone technology. Our team has developed patent-pending parallel hybrid technology, enabling our drones to carry a 100-pound payload for hours.
And while delivering balsam firs is not our team's main priority, we recently displayed our technology's capabilities by flying our test drone with a very festive payload. This video shows our test drone, "The Big Mule," which we use to validate and tune our flight controller. Flights with this test drone are a key step in developing Parallel Flight Technologies' first commercial drone, which is currently under construction at our headquarters in La Selva Beach.
Parallel Flight Technologies' beta-level drone will begin flight testing in January and will be delivered to our first customers in 2021. A 10X gain over existing solutions in terms of flight-time with a heavy payload, this new drone will have applications across multiple industries including firefighting, industrial logistics and healthcare. PFT's parallel hybrid technology has never been used before in a multirotor aircraft, resulting in a fully redundant drone that can carry 100 pounds in payload for over two hours. Our product has evolved from a prototype to a production-intent aircraft in a short period of time, and we are now on the cusp of commercialization.
Although this futuristic version of Santa's sleigh won't be delivering holiday cheer this year, our team is rapidly pursuing our mission to build a solution for some of the world's biggest challenges. From fighting wildfires to delivering vaccines, there are endless possibilities for PFT's technology.
###
Originally published here: https://www.parallelflight.com/blog/parallel-flight-technologies-will-deliver-your-christmas-tree-by-drone
###
Tagged Drones, Parallel Flight Technologies