Companies
DigitalNEST to celebrate 6th anniversary and expansion of Salinas location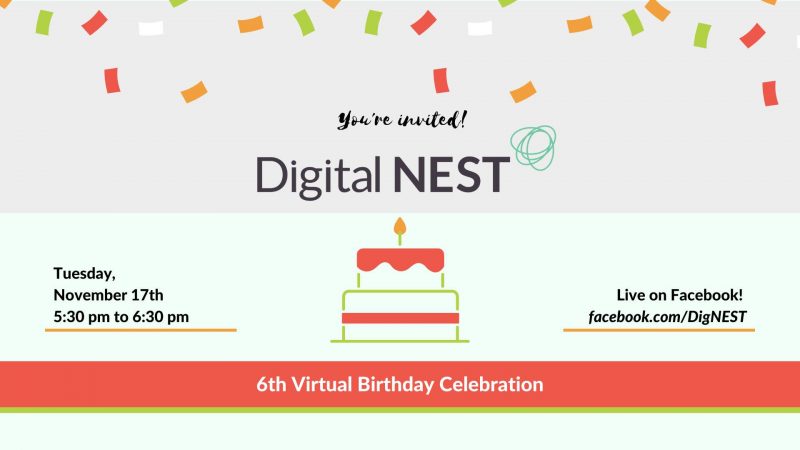 (Contributed)
October 28, 2020 — Watsonville, CA
On Tuesday, November 17, 2020, DigitalNEST will celebrate the organization's 6th anniversary online with a live (virtual) Facebook event.
The organization will hold a virtual celebration and visual experience to mark both milestones that will include guest speakers, a program showcase of NEST's work and contributions to the community, youth members who will share their personal growth journeys, and a special announcement.
DigitalNEST is a nonprofit youth workforce development and empowerment center headquartered in Watsonville with a second location in Salinas.
The Salinas location is expanding to a larger space in downtown Salinas to continue building a vibrant community of career-ready youth.
DigitalNEST 6th (Virtual) Anniversary Celebration
Tuesday, November 17, 2020
5:30 – 6:30 PM
Live stream on Facebook
Hosted by Jacob Martinez, founder and executive director, and Jenna Rodriguez, development coordinator
Salinas, a city of roughly 157,000 residents, 77% who are Latinx, has a sizable overlooked workforce. Nearly 42% of the population is under 25 years old—many are the children of frontline workers like farmworkers, grocery store clerks and restaurant workers who are most affected by COVID—and primed to bring fresh thinking and innovation to businesses and communities. These are youth whose grit, resilience and entrepreneurial spirit are high, but whose
opportunities to compete for jobs are low due to lack of access to resources, such as home internet connection, skills training and traditional hiring practices. Digital NEST's new Salinas space will enable the
organization to train more local youth and raise the visibility of Salinas Valley's talent among businesses to expand their qualified employee candidate pool.
###
Tagged Digital Nest, Jacob Martinez