Companies
Leon Panetta Keynotes Digital NEST Sneak Peek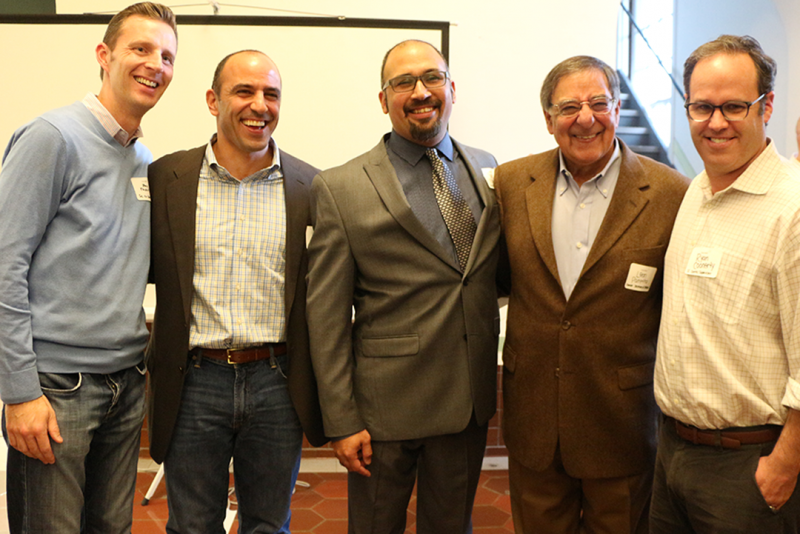 By Jan Janes
Special to Santa Cruz Tech Beat
January 25, 2016 — Watsonville, CA
(Photo above: Celebrating the new location of Digital NEST in downtown Watsonville were (l-r) Zach Friend, Santa County Supervisor District 2; Jimmy Panetta, candidate for 20th Congressional District; Jacob Martinez, Digital NEST Executive Director; Leon E. Panetta, founder of the Panetta Institute for Public Policy; and Ryan Coonerty, Santa County District 3 Supervisor. Credit: Jan Janes Media)
On a sunny Sunday afternoon, nonprofit training facility Digital NEST briefly opened its new, downtown Watsonville doors for a sneak peek to donors, members, elected officials and dignitaries.
"The original vision was always to be downtown"
In the next three weeks, the NEST (Nurturing Entrepreneurial Skills with Technology) will wrap a major facilities renovation of Building B at Cabrillo College's Watsonville campus. After launching more than a year ago on the outskirts of the city and expanding to 450 students, the program outgrew its first location. The move downtown fulfills the founders' vision to be central and accessible to area students.
Guests for the afternoon toured a restructured second floor of classrooms outfitted with new equipment and software. NEST students skilled in each program area described their participation in the training offered.
In the film and videography classroom, three students answered questions and shared their individual and team learning. With Digital NEST as a training center, Immanuel Melecio, Isaac Rodriguez and Monica Villanueva have collaborated as a production team to produce local documentaries.
Melecio, a senior at Pacific Coast High, is a producer and post-production editor. Previously he volunteered with Watsonville Tech to teach basic programming to fifth graders.
"I worked with Jacob Martinez before he founded the NEST," said Melecio. "He invited me to check out this new project, and it's been great."
Rodriguez is a producer, pulling all the details together. A NEST member for two months, he is a junior at Watsonville High School. Villanueva is a director, seeing the big picture and weaving it into a coherent story. She has been a member since last summer and is a senior at Pájaro High School.
"I would hear about the NEST from friends. Then I just walked in, I was curious," said Villanueva. "Jacob said this was a place for teens to go, to learn about digital projects and web design."
Before joining Digital NEST and taking classes, the three students did not know one another. After joining, they formed a team.
Diverse communities, creating the future
From inception to opening the new facilities, Digital NEST sought community and angel funding to launch the new venture. Michele Bassi, president of the nonprofit, acknowledged founder Jacob Martinez's vision and thanked the talented pool of people who collaborated to make the vision a reality.
"We have had an exciting first year at Digital NEST," she said. "And our second year is off to an amazing start."
Bassi introduced keynote speaker Leon E. Panetta, founder of the Panetta Institute for Public Policy and former U.S. Congressman (1977-1993), former White House Chief of Staff (1993-1997), former U.S. Director of the Central Intelligence Agency (2009-2011) and former U.S. Secretary of Defense (2011-2013).
Panetta spoke about his affection for Watsonville, part of his former congressional district. He described it as a place where people can come from anywhere in the world, work hard, and sacrifice to raise their families. He shared his own history of immigrant Italian roots and the aspirations of his parents. They were willing to travel across an ocean to give their children a better life and the American Dream. Panetta compared his parents' dream to the opportunities the Digital NEST now provides to children of Central California workers.
"Education is about the three Rs: reading writing and arithmetic," he said. "But I've often said education is about four Rs, and the fourth R is reality."
"The reality of this world is very much technology."
Panetta emphasized the need to educate young people in technology and couple it with responsibility to build competitive businesses, independent energy systems, strong infrastructure, disciplined budgets and participation in democracy. He expressed his hope that the Digital NEST program would give students tools, confidence, dedication and moral values.
"If we can produce young people like that, we will have an American renaissance."
One of "those" young people
Imagine for a moment you're back in high school, age 18, and you must follow Leon Panetta at the podium.
Monica Villanueva, a high school senior and a director in the film and videography program, spoke to the audience about the training and growth Digital NEST offers area students.
"Digital NEST has given us the cameras, the laptops, the software to edit," she said, outlining the documentaries she is working on. "People like us can't afford that."
After describing her projects, training and team members, she shared with the audience that she was new to public speaking and nervous. Taking a deep breath, Villanueva then talked about bridging the economic divide. "Basically, we're raised to have to work in the fields or take very low income jobs."
To counteract that expectation, she described how Digital NEST training provides more than classes. "They teach us how to set goals, have higher goals, aim higher. It has opened my eyes to bigger things going on around the world," she said, thanking the staff, board and donors for their support.
"I just hope to make everyone proud."
Amazing talent, amazing students
"You already have. Isn't she great?" Martinez, founder and Digital NEST Executive Director, said of Villanueva.
When the program opened its doors, staff was not sure who would show up. Since then more than 450 students joined, bringing their own stories and building their own learning experiences. They came from the local community as well as from UC Santa Cruz, CSU Monterey Bay, Pacific Charter School in Santa Cruz, Salinas, Aptos and Mountain View.
"Our original vision was always to be downtown, central, in the heart of the community, accessible to all of you," Martinez said. "This is a big statement to the community, the youth, to people outside Watsonville as well."
The mission of Digital NEST was to create an organization that was local, sustainable and planning for the long term. The center is part of the Cabrillo College extended campus in Watsonville, walking distance to Watsonville High School and close to public transit.
"You ain't seen nothing yet"
Martinez described the NEST success stories: an invitation to the White House, a major computer donation from Facebook, students who won notable awards, other students who landed technology jobs based on their digital portfolios developed after Digital NEST training and client work.
Program Manager Yazmin Herrera is preparing for the growth, along with educational collaboration. "NEST will partner with Cabrillo to offer a C++ class this semester. We hope to do a lot more, because we're right here," she said.
The program in Watsonville is expected to expand to 1000 student members by summer, hiring additional staff to accommodate the growth. Students aged 12-24 are encouraged to join. Younger students participate in exposure workshops, while older students attend institutes designed to get them job ready. Digital NEST plans to build centers in other locations, including Salinas.
"Keep believing in the youth. These kids can outproduce any other kids, in any other community, any day. They have dreams, they have high goals, they are hard workers," Martinez said.
Digital NEST will hold a community grand opening February 11 and will open its doors to youth classes February 15. The new facilities are located at 318 Union Street, Building B, Watsonville. For information on student member sign up and available classes, visit digitalnest.org.
###
Jan Janes, Communications Director, Web Publisher, Television & Radio Producer, Photojournalist, Social Media Architect, can be reached on LinkedIn.
###
If you wish to republish this article, please follow our Terms of Use.
###
Tagged Digital Nest