Santa Cruz Tech Ecosystem
Digital NEST plans to eliminate the digital divide
by Sara Isenberg
Publisher, Santa Cruz Tech Beat
"Eliminating the digital divide between those who have access to technology and those who don't"
On a cold Friday evening, Jacob Martinez noticed a young girl sitting in the cold outside of the Cabrillo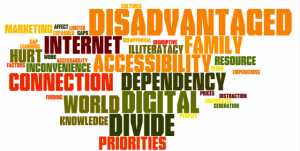 College Watsonville campus. As he walked closer he recognized her as one of his students from the original Technology-Education-Community (TEC) program, the Girl Game Company. Now a freshman at Cabrillo, the 18-year-old was sitting on a bench, laptop on her knees, intently typing away. She was working on a homework assignment for her English class and, given she didn't have internet access at home, she had no choice but to brave the cold to take advantage of the free internet for students.
Working with Watsonville Youth
Throughout the past eight years as the TEC program director, Martinez has worked with Watsonville youth to build their skills and confidence in technology. The program can boast about its many successes including having one of its high school students recognized as a top girl in computing in the nation through the National Center for Women in Information Technology (NCWIT); its team of students who gave a briefing at the White House to share the mobile app they built to help students navigate the college pathway; and the many students who have graduated from high school and now attend universities throughout the country. Even with these accomplishments, Martinez struggled with the knowledge that his students, and those who weren't fortunate to have the program in their schools, would be able to accomplish so much more if their access to technology wasn't limited to a few hours a week. He thought that if more youth could be served and with less limitations, the opportunities for them and the entire community would be endless.
Introducing Digital NEST
Martinez is in the process of creating Digital NEST (Nurturing Entrepreneurial Skills with Technology), a

Technology Workforce Development Center.
"The NEST will create economic equality for low income communities by educating and inspiring the future workforce," says Martinez.
Digital NEST looks to revolutionize the way communities prepare youth and young adults for a workforce that requires them to have the skills to not only drive technological innovation but to diversify it.
A hip, cool space
The Digital NEST will not be a typical sterile computer lab but a hip, cool space designed with the same technology workplace principles found in our local companies like Nextspace and Cruzio, and Silicon Valley companies like Google and Apple.  The idea of creating this space came to Martinez, after taking his students, year after year, on field trips to places like Google, Apple, and Mozilla.  When students would get on the bus to go back to Watsonville, he would hear similar comments like "I want to work there" and "I want to stay involved with tech because I want to work at a cool place."
"It was a simple idea," Martinez explains. "If those workplace environment design models worked to inspire creativity and drive innovation for adults, why not apply those same principles to youth technology centers?"
Creating access to technology, providing technology education, having a safe space for youth, and sparking entrepreneurship is what the Digital NEST will accomplish when the doors open later this year.
Help the center come to life
Digital NEST, a non-profit organization, will be located in downtown Watsonville. The exact location hasn't been announced.
Digital NEST will be pursuing individual donations, hosting events, looking for corporate sponsors, and applying for grants.  Currently they have an anonymous donor that is putting up a matching donation of $100,000.  They need to raise $200,000 to receive the donor's $100,000.
The extended community is invited to help make the center come to life and revolutionize the way local youth are prepared for a 21st century workforce by becoming part of the founding group of Digital NEST supporters.
To find out how you can get involved contact Jacob Martinez, jacob@digitalnest.org. To stay up to date on developments, "LIKE" the center's Facebook page or visit the website.
###
Sara Isenberg publishes Santa Cruz Tech Beat for the benefit of the extended business and technology community. When she is not volunteering her time for the tech scene, Sara makes her living by managing software projects, web strategy planning, and providing development team services (including account management, vendor management, strategic partner management, beta project management, referrals to qualified technical team members, and more). Please visit her website: Sara Isenberg Web Consulting & Project Management, or contact Sara by email if you have any project management, account management, or Development Team leadership or service needs.
Tagged Digital Next, Jacob Martinez