Companies
Parallel Flight Technologies announces the design of their new beta-level aircraft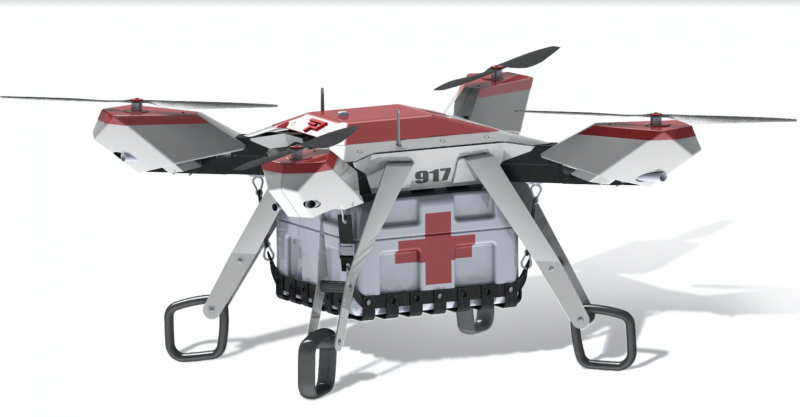 By Sara Isenberg
Founder, Publisher, Editor-in-Chief, Santa Cruz Tech Beat
September 24, 2020 — La Selva Beach, CA
(Image above: Computer generated image of Parallel Flight Technologies' beta-level drone, currently under construction. Contributed.)
Parallel Flight Technologies (PFT) has just announced the design of their new beta-level drone (aka aircraft). This is PFT's first production-intent drone and it is now in construction at their headquarters.
PFT's product has evolved from a prototype to a production-intent aircraft featuring a compact hybrid power module design, large cargo volume, lightweight carbon fiber body, shock absorbing landing gear, and all weather flight capability.
"This is a step toward commercialization, as this is the design of the product that our first customers will receive," says Joshua Resnick, PFT CEO.
The technology is a 10X gain over existing solutions in terms of flight-time with a heavy payload and will have applications across multiple industries including firefighting, industrial logistics and healthcare.
"Our growing team is working very hard to develop this technology on a tight timeline for critical applications. We are especially excited about wildfire related applications such as controlled burns, unmanned logistics for firefighters on the front line, and eventually, spot fire suppression. We take pride in being a Santa Cruz company and I encourage people to visit our website to learn more about our mission and how the local community can support us," says Resnick.
"The next step will be the delivery of the beta level aircraft to customers in mid 2021," Resnick added. "These are for the first customers already in line. It will be available in late 2021 for purchase."
Learn more here: https://www.parallelflight.com/product
#