Featured
Four Pillars: What's new at ChooseSantaCruz.com?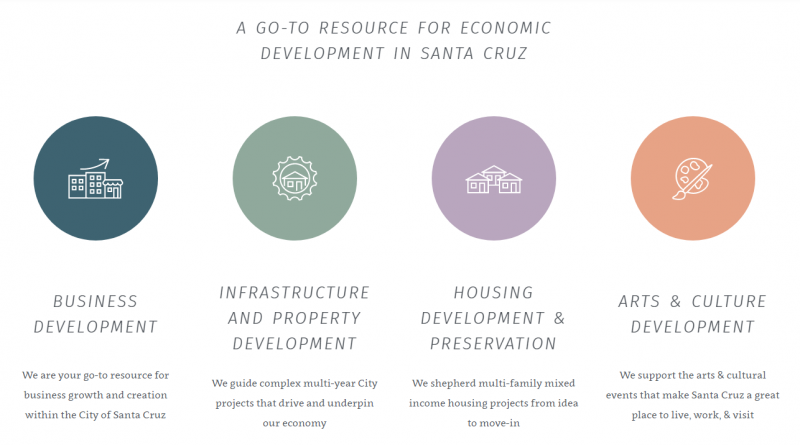 By Sara Isenberg
Founder, Publisher, Editor-in-Chief, Santa Cruz Tech Beat

September 9, 2020 — Santa Cruz, CA
The City of Santa Cruz Economic Development Department announces the update of their website, ChooseSantaCruz.com
In this Q&A, Rebecca Unitt, Business Liaison at the Santa Cruz Economic Development Department (SCED), tells us the what and the why behind this website update.
Santa Cruz Tech Beat (SCTB): It seems like just yesterday that your department launched the original Choose Santa Cruz website. Time flies. How long ago was that?
Rebecca Unitt (RU): We launched ChooseSantaCruz.com just over five years ago in 2015. The website was originally launched as a business resources portal and website designed to tell the stories of our unique businesses and the incredible entrepreneurial spirit of our community. In 2015, the Economic Development Department was beginning to build out more of our business support efforts with three staff members assigned to provide resources to new and growing businesses and the website was built to serve as an online portal available 24/7 for businesses looking for the tools they need to be successful.
SCTB: What motivated the update?
RU: Not many people know that our department also does housing, infrastructure and property development, and arts and culture. We updated the ChooseSantaCruz.com site to better represent all of the work we do and better connect the community to the resources available within those areas. Housing has increasingly become a major priority for our community, and we felt it was important to highlight our department's decades of work developing affordable housing, and make it easy for community members to access programs and resources.
Ultimately, our goal is to help people access resources, get their questions answered, and learn more about issues and projects they care about. ChooseSantaCruz.com is now a better tool to help us help you!
SCTB: For readers who want to cut to the chase, tell us more about what's new. What are the "four pillars"?
RU: Through this update we have consolidated all of our core department functions into one easy to navigate website. We have developed landing pages for each pillar (business development, infrastructure and property development and management, housing development and preservation, and arts and culture) with a resources page linked to each of these landing pages to quickly find the information and tools needed under each of these categories.
SCTB: Did Covid-19 influence your website update?
RU: While COVID-19 didn't spur these changes, they had been in the works before the pandemic hit, we have been able to take advantage of some of the new functionality provided by the update for our Information and Resources for Businesses in Response to COVID-19 page. This website update gave us more tools for organizing resources and providing information in an user friendly format, which helps users of the site more easily navigate to the resources they need.
SCTB: Why would people go to your website?
RU: If you are an entrepreneur or aspiring business owner in the City of Santa Cruz looking to start or grow your business you can find information about the permitting process, free and low-cost support services for business mentoring and information about financing options.
If you are a housing developer interested in building new mixed-income multi-family housing you can find contact information for our team ready to help you get a project started and see information about projects we have underway.
If you are looking for help finding housing assistance or more information on the latest housing projects under development you can learn about financial assistance programs and where to sign up for affordable housing as well as project information pages with updates on the latest milestones for some of our housing projects the City is involved with.
If you're interested in updates on some of our key projects including the Santa Cruz Wharf Master Plan, Mixed-Use Library Project, Warriors Arena, or Pacific Station Housing Project we have a project section specific to providing key milestones and project details.
Finally, if you are looking for information about all things arts and culture in Santa Cruz you can find information about our public art programs and initiatives, arts and culture centers we help support as well as our community partners and their programs.
SCTB: Quite a bit! What website updates are coming up next?
RU: We are working on building out more project pages for some of our major projects across our four pillars to help keep the community informed of milestones and progress and will be adding more resources in the form of a knowledge base to make finding answers to your questions even easier through the website so we can continue to improve our ability to assist especially in this new reality of virtual connections and information sharing.
SCTB: Keep us posted!
###