Featured
Cabrillo College Poised to Become a Real "Mover and Maker" for the Region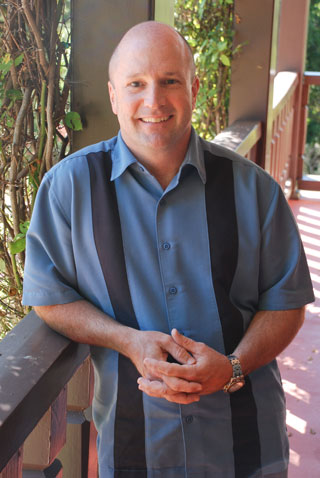 By John Graulty, Ed. D.
Dean of Visual, Applied, and Performing Arts, Cabrillo College
Special to Santa Cruz Tech Beat
April 20, 2017 — Aptos, CA
(Photo above: John Graulty, Dean of Visual, Applied, and Performing Arts at Cabrillo College. Contributed.)
[Editor's note: This article is second in a 2-part series about the Cabrillo College Fab Lab. Read the first part here.]
Cabrillo College is on the brink of developing a full-blown makerspace
From modest beginnings and a very generous equipment donation from Dave Britton's MakersFactory back in 2014-15, Cabrillo College is on the brink of developing their small but mighty Fab Lab in the Visual, Applied, and Performing Arts (VAPA) Division's Art Department into a full-blown makerspace. It all depends on our ability to parlay a $40K planning grant awarded by the California Community College Chancellor's Office into subsequent grants of up to $350K a year for each of the next two years. With this substantial influx of resources and the expertise and continued determination of Cabrillo College art alum turned faculty member Payson McNett, who returned to teach at Cabrillo in 2014 after earning his MFA at Indiana University, Cabrillo would be able to expand our inventory of 3D printers and scanners, laser and vinyl cutters, and CNC routers for the training of STEAM students in creative, innovative digital fabrication and rapid prototyping processes, and other advanced manufacturing techniques.
The California Community College Chancellor's Office $17M Innovation 3 Makers Grant initiative is intended to help Cabrillo and 33 other community colleges in California (there are 113 in all)…
Outline realistic plans for an appropriately equipped and sustainable makerspace that serves the campus and the entire community.
Create a vibrant maker culture and community.
Encourage innovation, entrepreneurship and enterprise generation.
Actively match students to quality STEM/STEAM (with ARTS integrated into Science, Technology, Engineering, and Math) work-based learning opportunities.
The Chancellor's Office is very keen on avoiding the creation of "fad labs," facilities full of expensive equipment that are disconnected from and unresponsive to the needs and interests of the local community and economy. To that end, I sat down in early March with J Guevara, Economic Development Manager for the City of Santa Cruz, to begin identifying an ecosystem of innovative designers, makers, fabricators, and entrepreneurs across Santa Cruz County who might help Cabrillo clarify their WHY and HOW as they look to build out a larger, more accessible, and more impactful makerspace for the Monterey Bay area. In just the last month and a half, I have discovered connections and networks in the local economy that when combined with my own network of educators and creatives led to the identification of over 180 potential makerspace stakeholders and beneficiaries in the community.
Well over 50 of these stakeholders accepted an invitation to participate in a fun, collaborative, all-day Cabrillo Makerspace Plan-a-thon on Friday, April 21, 2017, on Cabrillo's beautiful Aptos Campus. In addition to extensive stakeholder surveys that are being conducted on and off campus, this eclectic convening of creative industry, design, and education trail blazers was organized to explore:
What makerspace equipment, classes, skills and techniques should Cabrillo be teaching?
What hardware, software and materials do future employees need to be proficient in?
What accessibility is needed to create NextGen entrepreneurs?
How might Cabrillo match students to quality internship programs that will be substantially subsidized by this influx of State grant funding?
Regional economic workforce development officials, K-12 educators, Cabrillo STEAM faculty and students, and representatives from industries and organizations as diverse as Plantronics, Thoughtfull Toys, Fox Racing Shocks, and Digital NEST are helping Cabrillo think about – even dream about – what a vibrant new makerspace at Cabrillo might hold in store for our community. A special thanks goes out to Mary Talpas, Grant Administrative Assistant, for her extraordinary efforts in organizing the Plan-a-thon and her assistance on so many other fronts.
And there's more…
The Cabrillo Fab Lab and makerspace initiative aligns nicely with the Cabrillo VAPA Division's arts entrepreneurship program, which rolls out in full force this coming fall with a new course and 3-course skills certificate by the same name: Creative Careers – Discovering Self-Directed Pathways. This initiative grew out of a partnership begun in 2012 between Cabrillo's Small Business Development Center, Extension Division, VAPA Division, and the Arts Council of Santa Cruz County. These partners realized that while Santa Cruz County enjoys the 5th highest per capita concentration of artists in the country (2010 US Census data), many lacked the entrepreneurial and business skills needed to leverage their creative talents into sustainable livelihoods, especially in a high-cost area such as Santa Cruz. A Saturday workshop series called The Business of Art was launched and attracted many mid-life, classically trained artists who would have benefited greatly from exposure to entrepreneurship training when they were in college. In true entrepreneurial fashion, Cabrillo recognized a gap and has stepped forward to fill it.
If you would like to learn more about the Cabrillo Fab Lab or Makerspace initiative, please visit: Cabrillo Fab Lab, the California Community College Makerspace Initiative, or join us at one or more of our upcoming events:
Cabrillo Makerspace Plan-a-Thon, Friday, April 21, 2017 [Note: This event is by invitation only. If you'd like to attend but have not yet received an invitation, please email John.Graulty@cabrillo.edu. This all-day event will focus on identifying the community's need for specific maker skills and building a network of potential subsidized paid internships in the local community.]
Santa Cruz Mini Maker Faire, Saturday, April 29, 2017, 10am-5pm.

Cabrillo College VAPA Open House, Saturday, May 13, 2017, 5-8pm. FREE and family-friendly!
Bay Area Maker Faire, May 19 – 21, 2017.
Movers & Makers: Building Ecosystems Beneficial to Makers & Entrepreneurs – a breakout session presented by John Graulty, Cabrillo College Dean of VAPA, at the National Association for Community College Entrepreneurship NACCE 2017 "The Power of Partnership" conference, October 8-11, 2017, Tampa, Florida.
If you have any questions about any of these events or would like more information, please contact the VAPA Division Dean at 831.479.6336. www.cabrillovapa.com
###
If you wish to republish this article, please follow our Terms of Use.
###
Tagged Cabrillo College, Cabrillo Fab Lab, City of Santa Cruz Economic Development Department