Companies
Parallel Flight: Why aren't your drones out helping the fire?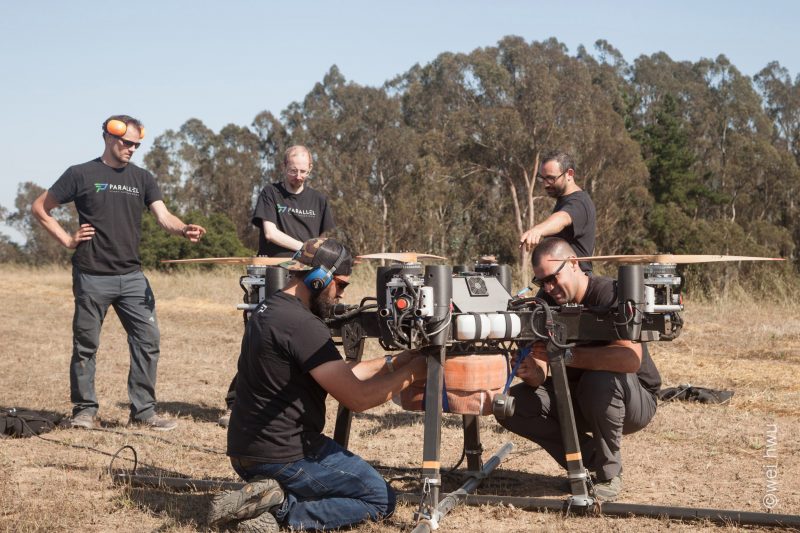 By Joshua Resnick
Parallel Flight Technolgies CEO
Special to Santa Cruz Tech Beat
August 26, 2020 — Ben Lomond, CA
(Photo above: The Parallel team mounts fire hose to the heavy lift drone for a test flight. Contributed)
I've been getting a lot of questions along the lines of: "Why aren't your drones out helping the fire?" So, here is an answer:
Parallel Flight Technologies (PFT) has made great strides in development since we demonstrated our prototype last fall. We have developed a redundancy system with NASA support, hired engineers, designed and begun testing of our beta level Hybrid Power Module, expanded our customer pipeline, secured additional grant funding, as well as raised additional capital. We are on track to begin flight testing of a beta level aircraft by the end of the year, and have customers ready to take delivery of multiple beta units in Q2 2021.
Secondly, it takes time to bring new technology into any industry. Before drones can be deployed on an active fire, they need to be integrated into the complex workflow of wildland firefighting. For this reason, PFT has brought on a Ret. CAL FIRE fire chief as a strategic advisor, as well as the Head of Aviation of the Dept. of the Interior, and we also get input from firefighters with LA City Fire, as well as the Naval Postgraduate School. Using these resources, we are developing a plan to begin testing with fire agencies as soon as the beginning of 2021. None of this happens overnight.
From the outside, it is easy to look at a startup or new technology and think that will be a panacea. This is super unrealistic. It cannot be overstated how complex developing a new technology, growing a startup, securing investment, and integrating new products into an existing industry is. Each element requires time, investment, and dedication. Then, once this is done, deploying it at scale, where it will make a widespread difference, becomes the next challenge.
But… it is totally doable and worth it… and it will add lasting value to society. The PFT team is totally dedicated to our mission of building Unmanned Systems to Save Lives, Property, and the Environment. We have made great progress on all fronts, and have identified the key areas we can relieve pressure for wildland firefighting, as well as for land management.
Let me name a few of these areas:
Unmanned controlled burns: This is a critical land management tool that the US spends $500M on each year. Pilots die while doing this because it's a low and slow operation. Agencies are actively looking to replace helos with drones for this operation. It's also a critical tool during a firefight to build fire lines.
Night-time and IFR flights: As we have see on the CZU fire, very few air assets can fly because of the heavy smoke. They also typically don't fly at night. Unmanned systems do not have these hindrances. They fly by GPS and can use smoke penetrating medium range IR to navigate in zero visibility. This can provide situational awareness, logistics, controlled burns, and spot fire suppression.
Logistics for Firefighters: It is really hard to get supplies to the fireline. Pulling a helo off a water drop to bring supplies to the line limits the amount of water the helo can drop. Drones can deliver supplies to the line 24/7.
Spot Fire Suppression: Heavy lift unmanned systems can deliver precision water to spot fires. This is a hard application but it is doable. Imagine if a swarm of such aircraft had been deployed after the lightning storm or when the fire was growing spewing embers and igniting spot fires. We wouldn't be in this situation. This can be done 24/7 and would only be limited by extreme wind.
PFT is working methodically on developing all of the above solutions. We are working with Federal, State, and Local agencies. It will happen. The drones are coming. But it will only happen by the sustained hard work of our federal and state partners, our dedicated team, industry partners, and the support of the public.

Finally, a massive thank you to all the brave heroes that have their boots on the ground trying to save our communities!!!
###