Featured
MBARI: New animation drains Monterey Bay to uncover the beauty of its geology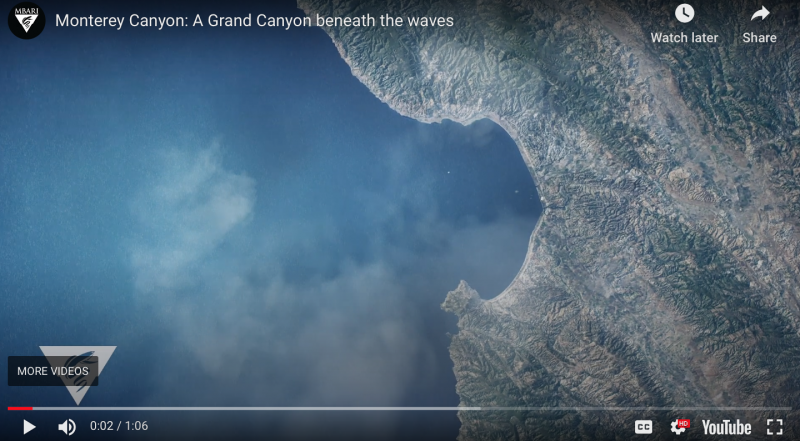 (Source: MBARI website)
August 26, 2020 — Moss Landing, CA
MBARI scientists partner with visual effects artists to create the highest resolution animation of Monterey Canyon to date.
Monterey Canyon is a magnificent submarine geologic feature rivaling the Grand Canyon in both its size and beauty. But while anyone can visit the Grand Canyon—whether by flying over it in an airplane or descending into it on the back of a mule—exploring Monterey Canyon is far more challenging, requiring teams of scientists and engineers, a fully-staffed research vessel, and a variety of autonomous robots. As a result, most people have never had a chance to see the majesty of Monterey Canyon. Until now.
Scientists at MBARI have spent the past few months working with designers at Frame 48—a Los Angeles based post-production company that typically works in film and television—to bring the bathymetric data MBARI has painstakingly collected over the past 22 years to life. Marine geologist Charlie Paull oversaw the effort, working closely with the team at Frame 48. "I've spent much of my life studying this canyon and have always wanted to show people what lies beneath the waters of Monterey Bay," said Paull.
But MBARI's strength is the collection and analysis of the bathymetric data, not building out animations. The mapping team decided that if they wanted to accurately visualize the amazing geologic feature right here in MBARI's backyard, they needed to bring in professional graphic designers. 
Continue reading here: https://www.mbari.org/canyon-up-close-new-animation-drains-monterey-bay-to-uncover-the-beauty-of-its-geology/
###
Tagged MBARI