Companies
MBARI announces construction of new state-of-the-art research ship, R/V David Packard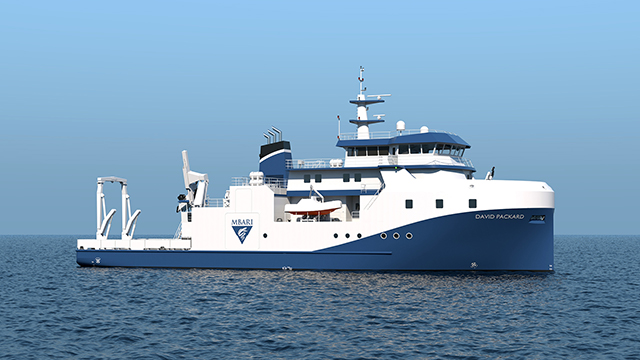 (Source: MBARI)
April 21, 2021 — Moss Landing, CA
(Image above: Design rendering of the R/V David Packard. Credit: Glosten/MBARI)
MBARI is embarking on a new chapter in its ocean research with the construction of a state-of-the-art ship. The new research vessel will be named in honor of MBARI's founder, David Packard. The R/V David Packard will be capable of accommodating diverse expeditions in Monterey Bay and beyond to further the institute's mission to explore and understand our changing ocean.
The R/V David Packard will be 50 meters (164 feet) long and 12.8 meters (42 feet) wide with a draft of 3.7 meters (12 feet). It will support a crew of 12, plus a science crew of 18. MBARI has selected Freire Shipyard in Vigo, Spain, for the construction of the R/V David Packard.
"MBARI's mission to explore and understand the ocean is more important than ever, especially in light of the growing threats of climate change, overfishing, and pollution," said Chris Scholin, MBARI President and Chief Executive Officer. "This new state-of-the-art research vessel will expand MBARI's reach and enhance our research, engineering development, and outreach efforts."
For over three decades, MBARI research has revealed the astounding diversity of life deep beneath the surface, and the institute's technology innovations have provided priceless insights into the ocean's geological, ecological, and biogeochemical processes. The new research ship will enable continued exploration of the deep sea, from the midnight zone—the inky depths below 1,000 meters (about 3,300 feet)—to the abyssal plain, with MBARI's deep-diving remotely operated vehicle (ROV) Doc Ricketts. As the command center for the ROV Doc Ricketts, the David Packard will allow researchers to continue exploring the deepest reaches of the Monterey Canyon and beyond.
Continue reading here: https://www.mbari.org/mbari-new-research-vessel-announcement
###
Tagged MBARI