Featured
MBARI Works at Unlocking Ocean Biology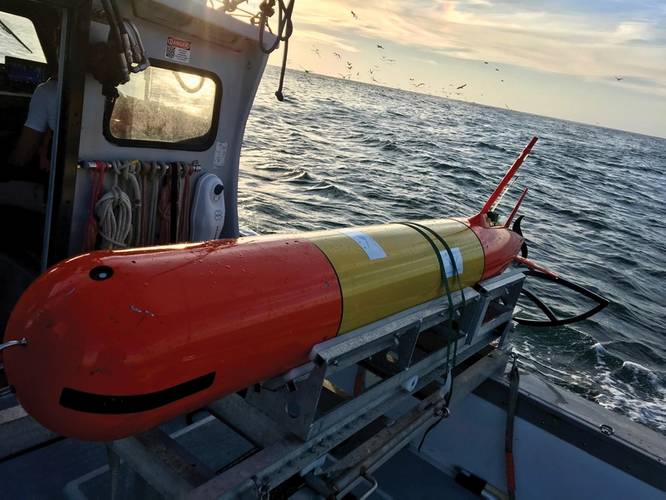 By Elaine Maskin
Marine Technology News
March 31, 2020 — Moss Landing, CA
(Photo: MBARI's long-range AUV on board the research vessel Paragon in Monterey Bay. Credit:  MBARI)
"Ecogenomic" sensor solution produces results
Gathering biological data from the oceans remains a significant challenge for oceanographers. Now, an increasing range of unmanned vehicles that are able to work together is becoming available, as is an ability to collect biological data using them.
It sounds straight forward, but traditionally the collection and processing of biological samples has involved collecting samples, usually from a research ship, which are then gathered and taken for processing in a laboratory. The result can be patchy or miss significant events.
It's also been difficult and impractical for underwater vehicles to do, because they're not big enough to store the number of samples that would be needed or carry the laboratory equipment that could do onboard analysis – until now.
A team at Monterey Bay Aquarium Research Institute (MBARI), based at Moss Landing, California, has been working on a so-called "ecogenomic" sensor solution for over the last 25 years and it's now been getting results, as part of multi-vehicle missions on and beneath the surface.
Dr. Jim Birch, director of MBARI's SURF center, says it started with a group interest in microbial oceanography – the study of the smallest organisms in the ocean, including understanding how and why harmful algae blooms form. Dr Birch spoke about the work and its results at the National Oceanography Centre's Marine Autonomy and Technology Showcase (MATS) event in Southampton, late last year. The result is an Environmental Sample Processor (ESP), a compact robotic system that filters a water sample and then processes the biomass to create analysable samples.
The ESP program was started by current MBARI CEO, Chris Scholin when he was a post-doc at MBARI. The goal was to be able to detect harmful algae blooms (HABs) in situ, without having to take samples back to a lab. The first 10 years focused on developing detection chemistries that could identify the harmful algae. But, from the start, "Chris's idea was to forget the samples and put the lab in the ocean, sending only the data back," says Dr. Birch. "A 'first generation' ESP was a beta-type robot that was deployed once in the Gulf of Maine to show that it would work, which it did."
Then came a Second Generation (2G) ESP, which fits into the size of a 50-gallon drum. One was deployed in about 2006 in Monterey Bay and the design has since been licensed for commercialization to McLane Research Laboratories in Falmouth, Mass. It's been a "workhorse" for the past 14 years, says Dr Birch.  Both the 1G and 2G ESPs were static robots, moored in the water they are sampling, or installed in areas where water can be automatically pumped to them.
Continue reading here: https://www.marinetechnologynews.com/news/mbari-works-unlocking-ocean-600119
Tagged MBARI