Companies
MBARI scientist to receive international award for women in science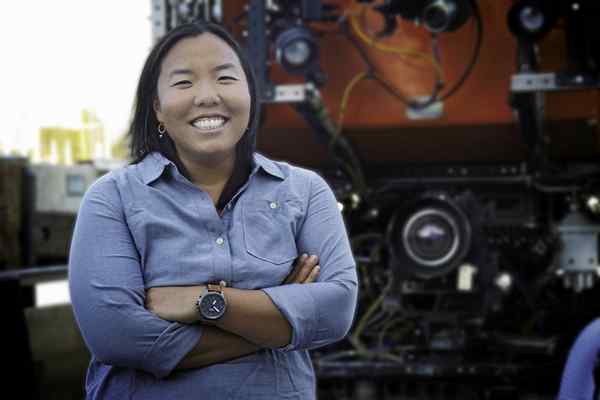 March 20, 2018 — Moss Landing, CA
(Photo above: Dr. Anela Choy poses for a photo in front of a remotely operated vehicle. Source: MBARI)
For 30 years, MBARI has sent remotely operated vehicles to depths of 4,000 meters off the Central Coast. These ROVs record feeding interactions from the deep, dark ocean to the sunlit surface. For scientists like Choy, MBARI is the "best and only place in the world to do this work with such a level of detail and commitment."
On March 21, scientist Anela Choy of the Monterey Bay Aquarium Research Institute will be among 15 women to receive a competitive international award for women in science.
Choy will be granted her award in Paris at the L'Oréal-UNESCO For Women in Science Awards, where she will be recognized with the International Rising Talents grant for 15,000 euros. She serves the sole awardee from the United States this year.
"Women make up over half of the world's population and yet are severely underrepresented at almost all levels, after graduate school, of science," Choy wrote in an email. "The absence of women from oceanography is particularly notable, and so the longstanding investment by L'Oreal to target and support women at the most critical stages of their career is absolutely one of the most valuable investments that can be made."
The L'Oréal-UNESCO For Women in Science initiative turns 20 this year and is intended to recognize accomplished women in science and raise them up as role models for the next generation. The International Rising Talents grant is a branch of this initiative, which selects 15 awardees from a pool of 275 highly qualified competitors. Those eligible are current recipients of a national or regional For Women in Science fellowships.
Continue reading article here: http://www.montereyherald.com/social-affairs/20180314/mbari-scientist-to-receive-international-award-for-women-in-science
###
Tagged MBARI