Companies
Look For the (Biotech) Helpers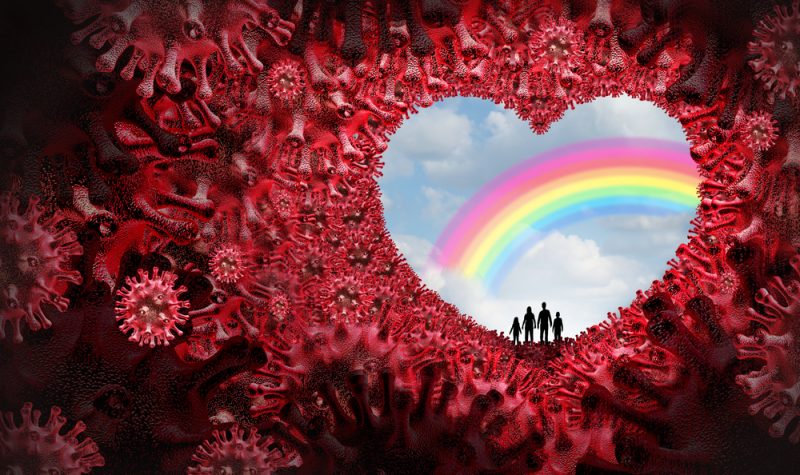 By Sarah Vickers-Webb
Director of Production
Santa Cruz Tech Beat
August 7, 2020 — Santa Cruz, CA
Local startups provide optimism and hope at Santa Cruz Works' 2020 Santa Cruz Biotech Startup event
We need some good news.
As the pandemic drags on, I have personally struggled to stay positive. And, based on conversations with colleagues and friends, along with posts on social media, I know I am not alone.
That's why I was particularly excited to attend this month's Santa Cruz Works Event: 2020 Biotech Startups — I needed to hear about local companies working to make a difference.
Let's just say, it helped. A lot.
From 30 second COVID tests, to forensic DNA research, to cancer fighting macrocycles, these local biotech companies are working on tech that could change the world.
"It's an opportunity for biotech companies to make their mark and make an impact and we're just beginning," said Lou Pambianco, CEO and Chairman of Startup Sandbox.
On an episode of Mr. Roger's Neighborhood, Fred Rogers said, "When I was a boy and I would see scary things in the news, my mother would say to me, 'Look for the helpers. You will always find people who are helping.'"
Let's take a look at how these local "helpers" are working to take down COVID-19, cancer, cold cases, and other medical hurdles.
Startup Sandbox
Speaker: CEO & Chairman Lou Pambianco
Startup Sandbox is a research lab and business incubator that helps biotech startups to successfully develop, launch and commercialize. Presenters SanguineDx and Pinpoint Science are both members of Startup Sandbox.
Entrepreneurs can license existing IP from the UCSC's bioscience Areas of Excellence or bring their own product ideas to the Sandbox. Sandbox provides affordable space and equipment as well as mentoring and support from successful tech and biotech executives. When startups launch independent operations in Santa Cruz, they provide jobs, tax revenues and growth for the local economy.
SanguineDx
Speaker: CEO David Sierra
SanguineDx is a team of engineers, designers, and clinical research specialists dedicated to discovering innovative ways to improve the lives of patients and researchers. The company uses lab space at Sandbox, and in Aptos, and also collaborates with professionals in the south valley and peninsula.
SanguineDx was in the process of developing a blood coagulation test to monitor blood clots in emergency rooms when the pandemic hit, then pivoted to COVID-screening technology. Currently, the team is developing an instant-read pen-sized device that detects COVID in less than a minute. The rapid point of contact pathogen detection technology is in the process of bench testing with with FDA and beginning EUA testing in late September. SanguineDx has completed two rounds of funding and plans to have the antigen-based test on the market and approved by January 1, 2020.
Astrea Forensics
Speaker: CEO Kelly Harkins Kincaid
Astrea Forensics was established in late 2019 by paleogeneticists as a service available to law enforcement and genetic genealogy investigators in their mission to solve cold cases, and determine the identify of unknown individuals. The company has helped law enforcement solve many cases, including the Bear Book murders, the Darylyn Johnson case, and the Jane Doe child case.
Astrea's advanced technology makes it possible to recover genetic profiles from highly degraded samples, such as rootless hair, that otherwise fail traditional forensic DNA testing. Their system, SRSLY Library Prep, is arguably the most advanced whole genome sequencing sample prep method. After sequencing, and novel computational methods for genotype imputation for genetic markers, data is delivered to genetic geneologists, who further work with the data to ID victims.
CITO Medical
Speaker: VP Business Development Mark Coates
CITO Medical is a biotech and medical product development company providing rapid prototype services to a wide range of clients — from startups to Fortune 500 companies to the University of California, including the Santa Cruz, Berkeley and San Francisco campuses. 
As a rapid prototype company, CITO takes products from napkin sketches to FDA clearance. While CITO designs a huge range of products, they are particularly adept at microfluidics, in which cells structures can be put in fluidics chamber for diagnostics. They recently designed a device for client that used fluid motion to detect viruses in donor-provided samples. They have also developed bone drills, surgery tools and countless other technologies.
Ontera
Speaker: VP Product Management Mark Rose
Ontera (formerly Two Pore Guys) is a biotech company that uses silicon nanopore chips and proprietary biochemistry to accurately detect and differentiate single molecules. Their mission is to help transform point of care testing and third generation sequencing in a way that is accessible and sustainable
Ontera is working aggressively to develop a point of care pandemic detection platform, to be released in late 2020. The test is incredibly accurate, with 95% sensitivity and 98% specificity, produces results in 30 minutes and is unique in that it tests not only for covid but other viruses, such as the flu. During the test, an interior nose swab is fed into a NanoDetector, which produces results in 30 minutes, and costs between $10-$20.
Pinpoint Science
Speaker: CEO Lisa Diamond
Pinpoint Science has developed a 30-second, highly sensitive nanosensor-based antigen test to rapidly screen for Covid-19 infection. The test is highly accurate, affordable and easy to use, detecting the SARS-CoV-2 nucleocapsid protein from nasal swab and saliva samples. Results are displayed in just 30 seconds and de-identified data can be automatically uploaded for public health surveillance. According to CEO Lisa Diamond, the test's technology is at least 10,000 times better than that in current testing. Preliminary results detect nucleic aside in below 10 cg per mill.
The test uses a disposable cartridge, and portable reader, and can be used basically anywhere— from home self-testing, to central lab, to schools, hospitals and drive thru testing facilities — because no sample prep or refrigeration is needed. There are also no foreseeable supply chain delays, and the results can integrate into health systems and electronic databases.
The test is currently at the validation phase in clinical studies. Pinpoint is currently working with partners to develop an authentication system to deploy small local bubbles so that they can have safe, authenticated results.
Unnatural Products
Speaker: Co-Founder & CEO Cameron Pye
Unnatural Products is a biotech company that uses AI-enhanced macrocyclic technology to transform untapped drivers of disease (targets) into de novo drugs to change the future of medicine. The founders are UCSC scientists who have worked with both pharma and academia to develop macrocycle programs.
According to Pye, about 70% of targets are undruggable because they are too large for small molecule drugs and too small for biologics, such as antibiotics. While small molecules can permeate cells but can't bind complex targets, biologics can only act on targets displayed outside of cells.
Using macrocyles, Unnatural Products has found a way to extend the scope of small molecules to tackle undruggable targets, as well as targets currently addressed by traditional modalities. Macrocycle transcend the traditional boundaries of cell permeability to access deep, complex targets with high specificity.
###
Tagged Astrea Forensics, Biotech, COVID-19, Kelly Harkin Kincaid, Ontera, Pinpoint Sciences, SanguineDx, Santa Cruz Works, Startup Sandbox