Companies
Biotech's rapid growth on Santa Cruz's Westside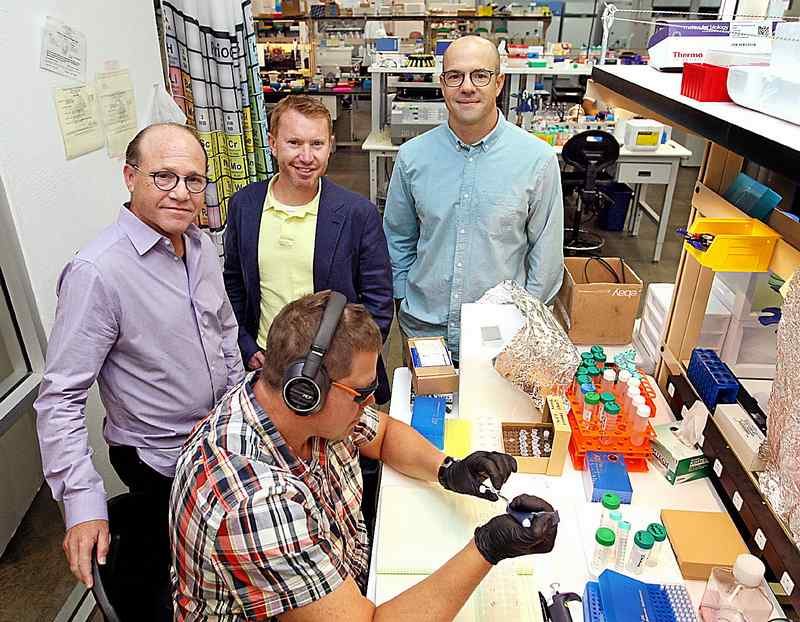 By Calvin Man
Santa Cruz Sentinel
[Editor's note: Santa Cruz Tech Beat published Two Pore Guys Raises $24.5 Million in Series A Financing (4/25/17) and Two Pore Guys Seek Assay For Platform (2/2/17) and Six Companies to Watch in the Emerging Santa Cruz Biotech Hub (2/27/14).]
September 26, 2017 — Santa Cruz, CA
(Photo above: Dan Heller, Trevor Morin, and William Dunbar formed startup tech business Two Pore Guys, which is now perfecting a hand-held 'molecule meter' that will give diagnostics for the flu, infectious diseases, and cancer as well as other maladies. Credit: Dan Coyro)
Dan Heller has a swatch of carpet samples leaning against a chair in his office. The CEO of Two Pore Guys, a biotech company, is gearing up for the company's accelerated growth. The company just expanded the office space to 16,000 square feet and plan on doubling that space by year's end. While the company is at 72 employees now, executives are forecasting 100 by the end of the year and 200 by June.
The company is looking to fill positions across the board, including for departments that don't exist yet, Heller said.
"Biotech is easier here because of the school," he said, referring to UC Santa Cruz.
The biotech startup recently raised $24.5 million in venture capital and is the one of the latest examples of a biotech business that is on the verge of an expected boom.
Heller's company is working to create a commercial handheld device used to detect specific molecules and cells in a short amount of time. In some time between 30 seconds to 10 minutes, it has the potential to detect cancer cells in patients, mercury in water and chemicals in plants, according to Heller.
Continue reading article here: http://www.santacruzsentinel.com/business/20170925/biotechnologys-rapid-growth-on-santa-cruzs-westside
Tagged Biotech, Two Pore Guys