Companies
ABC News: The Jane Doe child case that uncovered a serial killer, identified victims and changed the use of DNA forensics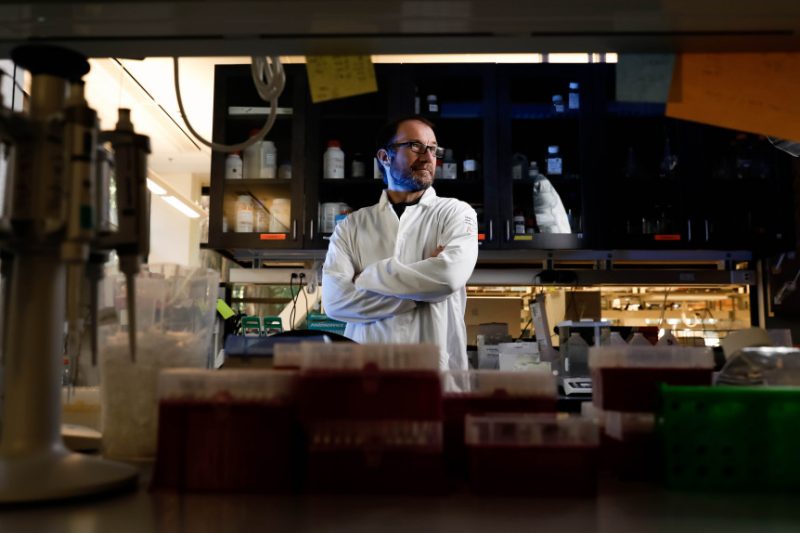 By Lauren Effron, Boaz Halaban and Marc Dorian
ABC News
March 25, 2020 — Santa Cruz, CA
(Photo:  UC Santa Cruz paleogeneticist Richard "Ed" Green at a UC Santa Cruz lab. Source: Randy Vazquez / Bay Area News Group)
How UCSC professor Ed Green's DNA research helped crack the case
[Editor's note: UCSC paleogeneticist Richard "Ed" Green, known for his work on the Neanderthal genome, developed a technique to recover and sequence DNA from hair, without the root. He and and Kelly Harkins Kincaid, a former UCSC postdoctoral researcher who is now the company's CEO, have founded Astrea Forensics. The company has already solved dozens of cases and continues to work on dozens more.]
Former California homicide detective Roxane Gruenheid had helped put a murderer behind bars, and yet, there was something about the suspect that nagged at her — something in his murky past that told her this wasn't the end of his story.
It was 2003. The killer, who by then was known to authorities as "Curtis Kimball," stunned the court when he suddenly stood up at a pre-trial hearing and announced he wanted to plead guilty to murdering Eunsoon Jun.
Jun was a 44-year-old California chemist he had been dating before she disappeared and her dismembered body was found in her Richmond, California, home. Kimball had originally pleaded no contest to a second-degree murder charge. He had also first told police his name was "Larry Vanner," and they knew he had also used the name "Gordon Jenson."
Gruenheid, a former captain for the Contra Costa County Sheriff's Office who is now retired, had helped uncover the body. She couldn't stop thinking about how this man — a proven liar — had already served time on child abandonment charges for deserting a little girl he called his 5-year-old daughter Lisa, 15 years prior.
"I was really centered on the little girl, on Lisa," she said. "Like, was this really his daughter? … If it's not his daughter, where did he get her? Who did he get her from?"
She believed Kimball's sudden decision to plead guilty was because he had overheard her telling another investigator in court that she was requesting a paternity test for Lisa, who by 2003 was in her early 20s.
"I think … he believed if he pled guilty … I would stop investigating that aspect of his past," Gruenheid said.
She refused to stop pushing for answers. Although she and her fellow investigators knew Kimball had a lengthy criminal record, they wouldn't know the full scope until years later.
Continue reading here: https://abcnews.go.com/US/jane-doe-child-case-uncovered-serial-killer-identified/story?id=69648434
###
Tagged Astrea Forensics, Baskin School of Engineering, DNA, UCSC