Companies
Emerging field of 'forensic genealogy' links DNA testing and family histories to solve cold cases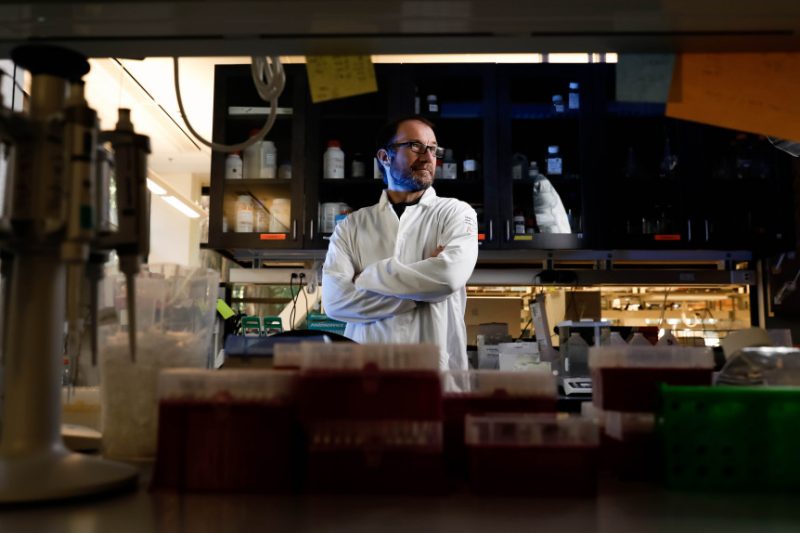 By Amanda Heidt
East Bay Times
January 21, 2020 — Santa Cruz, CA
(Photo: Richard "Ed" Green, an associate professor of biomolecular engineering at UC Santa Cruz, has developed tools to decipher ancient DNA, helping solve long-cold cases. Source: Randy Vazquez / Bay Area News Group)
UCSC Associate Professor Richard "Ed" Green and  Kelly Harkins Kincaid, a former UCSC postdoctoral researcher who is now the company's CEO, have founded Astrea Forensics. The company has already solved dozens of cases and continues to work on dozens more.
When they're planning to rob a liquor store, most criminals think to wear gloves and cover their faces. But few of them commit to shaving their heads to avoid leaving behind even a single strand of hair.
In the future, however, they may want to add that task to their modus operandi. Packed with DNA, hair is quickly becoming a powerful source to help catch lawbreakers.
Hair has been notoriously tricky to analyze, but a new approach by UC Santa Cruz researchers — pulling DNA from samples that are damaged or contaminated — is expanding the available pool of forensic evidence. DNA and ancestry records are now being used together to build family trees to identify rotten apples among their branches.
Barbara Rae-Venter, a retired intellectual property attorney and genealogist, who helped crack the Golden State Killer case poses for a portrait near her Monterey Peninsula home. (LiPo Ching/Bay Area News Group) But while the rapidly emerging field of "forensic genealogy" is solving long-cold cases, it's also raising thorny ethical questions about privacy. We all leave traces of ourselves wherever we go.
"Law enforcement gets excited about hair because often it's all they have in the way of evidence," said genealogist Barbara Rae-Venter, who has teamed up with Richard "Ed" Green, an associate professor of biomolecular engineering at UC Santa Cruz.
Green, known for his work on the remains of Neanderthals, has developed tools to decipher ancient DNA — often hundreds of thousands of years old.
Continue reading here: https://www.eastbaytimes.com/2020/01/18/emerging-field-of-forensic-genealogy-links-dna-testing-and-family-histories-to-solve-cold-cases-2/
###
Tagged Astrea Forensics, Bioengineering, DNA, Kelly Harkin Kincaid, Richard Green, UCSC