Companies
Parallel Flight Technologies Announces Equity Crowdfunding Campaign
By Sarah Vickers
Director of Production
Santa Cruz Tech Beat
June 20, 2020 — La Selva, CA
(Photo above: Parallel Flight Technologies CEO Joshua Resnick and co-founders inspect the Hybrid Power Module before takeoff. Source: Parallel Flight Technologies.)
Local heavy lifting, long duration drone startup seeks local investors
Parallel Flight Technologies (PFT)— the La Selva-based, heavy lifting drone company— announced a new equity crowdfunding campaign for accredited investors last weekend.
CEO and founder Joshua Resnick is excited to offer this opportunity to locals and looks forward to building a local investing community.
"Crowdfunding is a way for local people to invest in local companies," said Resnick. "You can do it for lower amounts of money and become a shareholder. It's great because we're local, we're here, we can have an investor day in our shop and everyone can come see a demo flight. I think it's something for everyone to be excited about."
Equity crowdfunding campaigns allow accredited investors to own equity in a project or venture in exchange for a relatively small amount of cash. To be considered an accredited investor in the US, people or business entities must have a net worth of at least $1,000,000, excluding the value of one's primary residence, or have income at least $200,000 each year for the last two years (or $300,000 combined income if married) and have the expectation to make the same amount this year.
Resnick founded PFT after he nearly lost his family home in a California wildfire and wanted to find a way to help the ongoing fight against forest fires. The startup's heavy lifting drones will be deployed for wildland firefighting, construction, logistics, and ag applications.
"Theres a local impact part of this," he said, "The reason we got into this is because of California's wildfires. I want to see this having an impact with our community."
PFT Drone Applications
PFT's Heavy Lift Platform is an unmanned aircraft system, or drone, that combines extreme heavy lifting and long duration, and opens new possibilities for unmanned logistics, search-and-rescue, firefighting, and heavy sensor applications.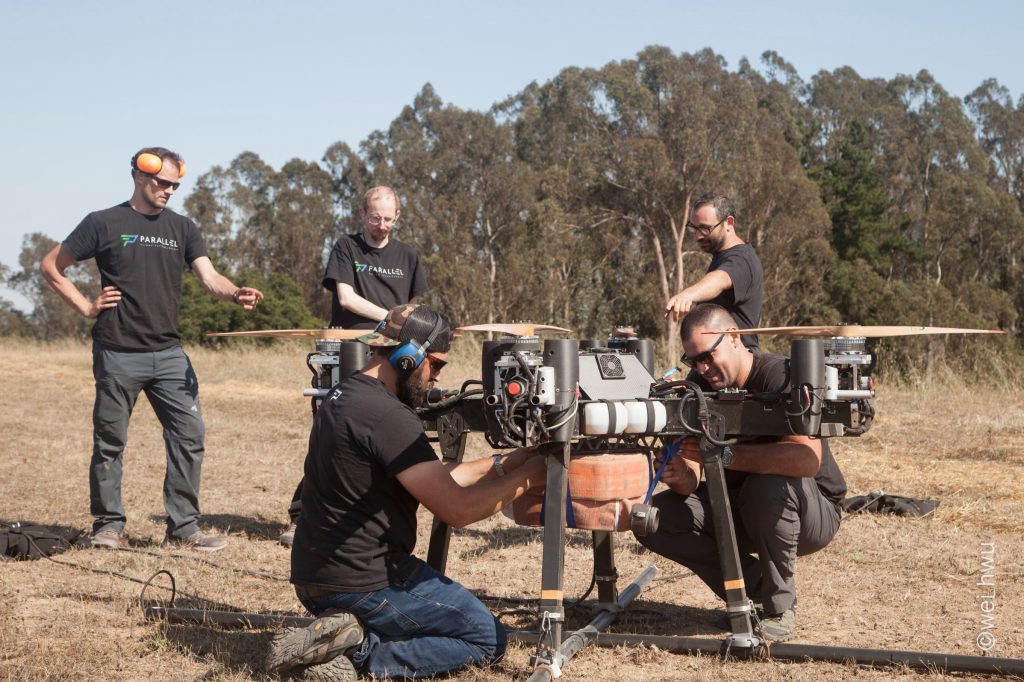 PFT is currently focused on helping fight wildfires from a logistics standpoint. The drones can lift up to 100 lbs, and can carry tools, food, drinking water, and any other supplies to ground crews.
A second application for the drones is dropping incendiary payloads for spot fires, AKA prescribed or controlled burns. These planned burns reduce the risks of wildfire by managing weeds and other growth, and can help restore nutrients to the soil.
"Especially when it comes to spot fires, our drones will be able to do some amazing things in the future, but we're starting with logistics, said Resnick,
Current Investors
PFT is well on its way to meeting its goals, with 1.7M raised already through grants, private investment, and regulation crowd funding. The startup has already secured funding from NASA and the NSF through the Small Business Innovation Research program, possess Letters of Intent signed from over a dozen customers in diverse industries, and are prepared to apply their technologies to the $10B wildfire industry in the US, Canada, and Australia.
PFT also has strong ties with the firefighting industry. On a national level, the startup has connections with the Department of the Interior, particularly with Forest Services. One of the companies' advisors, former CAL FIRE Battalion Chief and aerial firefighter Scott Watson, has over twenty years in tactical helicopter operations.
"He's is a visionary in how aerial fight fighting can be transformed with unmanned systems, increase efficiency and safety," said Resnick.
For more information on how to invest in PFT, testimonials from current investors, interviews, and general information, visit their equity crowdfunding page.
###