Featured
Google features former Cabrillo student's work in documentary series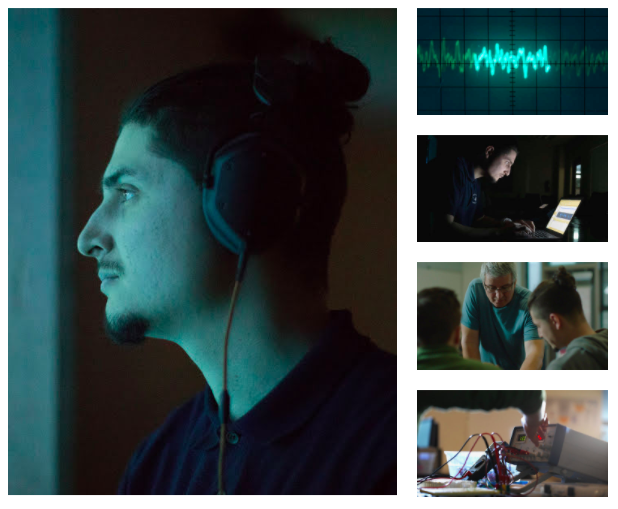 By Sarah Vickers-Webb
Production & Editorial Assistant
Santa Cruz Tech Beat
March 26, 2020 — Aptos, California
(Image source: Google)
How Daniel DeLeon's love of music informed his passion for engineering
When Daniel DeLeon enrolled at Cabrillo College, the Santa Cruz native never imagined Google would showcase his work.
"In high school I wasn't really tracked to go to college, it's the kind of system schools are a part of," he said. "After I graduated I worked as a janitor. I could listen to music, which I liked, but I realized I wasn't going to move up. Luckily I was checking out Cabrillo."
At Cabrillo, Deleon took an engineering class and was hooked. "I became interested in civil engineering, then became interested in physics so took I took mechanical engineering and electrical engineering."
Driven by his newfound passion, DeLeon applied for internships at the Monterey Bay Aquarium Research Institute (MBARI), and learned MBARI researchers John Ryan and Danelle Cline were using machine learning to monitor whale sounds.  "In my application I chose positions that interested me," he said. "I was really interested in music, so I mentioned that what they were doing in bio-acoustics was amazing. Being a Santa Cruz local, I am fascinated by the ocean."
His project involved identifying and tracking whales' calls and migrations patterns by feeding information into Tensorflow, Google's open source machine learning software, to gain insight regarding whales' behavior and ecology.
DeLeon crossed paths with a Google journalist while presenting at the Society for Advancement of Chicanos/Hispanics and Native Americans in Science (SACNAS— a national organization that is headquartered in Santa Cruz) Conference in Salt Lake City in 2017.  "It was a really cool experience, really bizarre because I went to speak at this conference to present basically a trifold poster," he said. "I was talking about my research and one woman asked me about Tensorflow. She began asking odd questions about my family. After a half an hour she said she was a Google journalist and she thought it would be a good story."
DeLeon gave her his resume, but doubted anything would come from the encounter. "A few months later I was back at school studying and we had a meeting where I found out Google wanted to do a video of my work. The video was done with a really professional team, it was really exciting."
Google released Daniel and the Sea of Sound (video above) as the fourth episode of Search On "an original documentary series about people around the world who use Google technology to solve big problems in surprising ways." In the video, DeLeon describes music's role in his life. "My mom didn't know Spanish, and my dad didn't know English but they were able to communicate at least with music. Then I came along."
The video chronicles how Daniel's love of music informed his growing interest in math, physics and engineering, featuring interviews with Cabrillo College Physics Professor Carlos Figuera and MBARI researchers Cline and Ryan, interlaced with striking images of whales, Deleon's work at MBARI, and his family.
DeLeon eventually transferred from Cabrillo to California Polytechnical Institute in San Luis Obispo, where he focused on computer engineering. He is currently awaiting to hear back from Master's programs, while building on his previous research at  MBARI. "Since I've returned, the emphasis has been having real time detection of whale calls. We are working to enable robotic platforms in the ocean to monitor whale calls autonomously and relay results to scientists on shore via satellite." 
Deleon has also returned to Cabrillo College to work as a teaching assistant, and is pleased to give back to the community college. "Cabrillo has always been a special place for me, I don't know where I would be without it. I had nothing to lose, which was what made me take this risk."
###
Tagged Google, machine learning, MBARI