Events
UCSC Research Review Day Highlights Engineering Achievements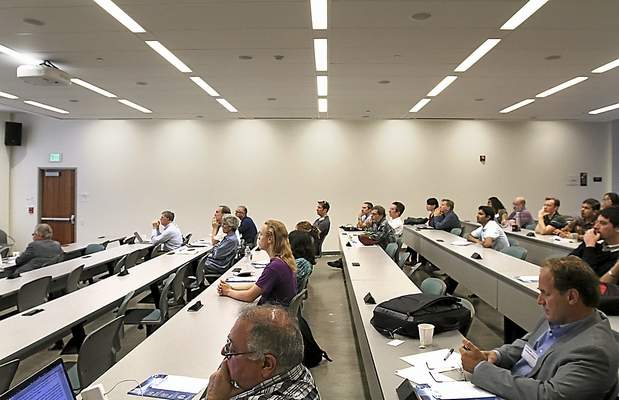 By Laurel Hammers
Santa Cruz Sentinel
(Photo above: Faculty and students fill the Baskin School of Engineering's Simularium for a presentation during Research Review Day at UC Santa Cruz on Wednesday. Credit: Shmuel Thaler)
October 15, 2015 — Santa Cruz, CA
Microscopic channels in membranes are a powerful tool to sequence DNA and detect viruses, according to a series of talks Wednesday at the UC Santa Cruz Baskin School of Engineering Research Review Day.
These channels, called nanopores, were one of three broad research areas featured during the event. The all-day affair, which also showcased ways to apply data science and economics to engineering, attracted more than 100 registered attendees from around the Bay Area.
Dean of Engineering Joseph Konopelski said that the event included three interdisciplinary tracks of talks to allow participants to sample "a bigger bite" of the engineering research happening at UCSC and beyond.
In June, the MinION, an inexpensive pocket-sized DNA sequencing device developed using nanopore technology from UCSC labs hit the market — nearly two decades after UCSC biomolecular engineer David Deamer first envisioned such a tool.
Deamer, collaborating UCSC professor Mark Akeson and graduate student Miten Jain each spoke about the 20-year journey to bring the idea from a doodle on a scrap of paper to a marketable product.
Continue reading article here: http://www.santacruzsentinel.com/social-affairs/20151014/ucsc-research-review-day-highlights-engineering-achievements