Companies
It's Computer Science Education Week: Do You Know Where the Girls Are?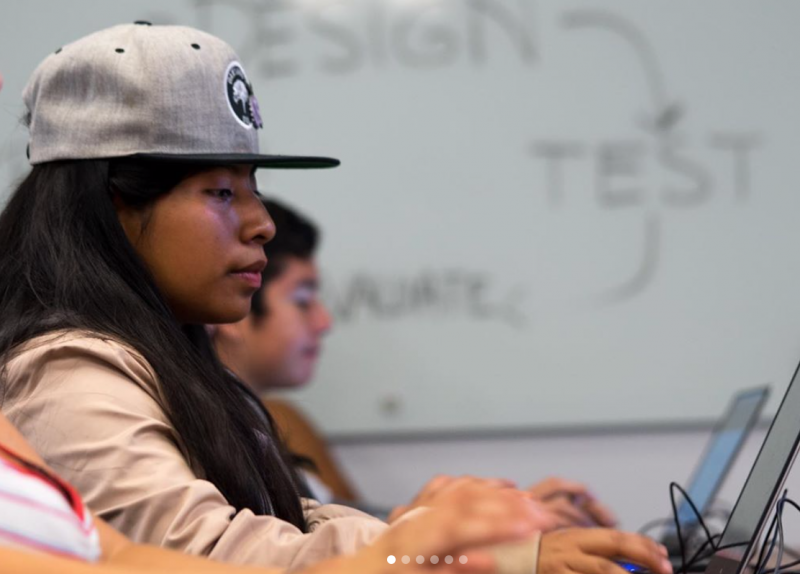 By Jill Denner
Senior Research Scientist at ETR
December 10, 2019 — Scotts Valley, Santa Cruz, Watsonville, CA
(Photo source: Digital NEXT Instagram)
Joana Rubio was a junior in high school when she took her first computer science class. It had not occurred to her to study computer science before, but during a presentation to her class by staff members from a local community-based organization, the Digital NEST, she realized that it might be a good fit for her.
At the Digital NEST, Rubio learned that there are women in computing, and that computer science involves more than just coding. "I've always liked complexity," she said. "It's just the fact that I mostly saw guys into it that disturbed me." Now, the high school senior wants to be a civil engineer.
The Digital NEST is one of several organizations that is working to give girls like Rubio the opportunity to build the skills that will help them shape new technologies. Located just 50 miles from Silicon Valley, the Digital NEST serves a population that has little representation in the tech industry—just 12 percent of all women employed in computing and information sciences careers are Black or Latinx. While they offer programming workshops, they often hook their students through web design or web development.
Monica Gutierrez, the Web & IT Manager, designs class content and makes sure it is up to current IT standards. The classes cover a range of the skills that are needed in the tech industry, which include "meeting the client, thinking about ideas, designing and developing the website, and doing quality insurance." By showing them that computer science involves more than coding, they get a more diverse group of students involved long-term—"they get to see the entire process and see what flavor they like the most."
The United States is at a watershed moment in the history of computing education. Thanks to federal funding from the National Science Foundation and others, a "computer science for all" movement has led to programs and classes popping up in schools and community-based organizations. If your school doesn't yet have a class or program in something like coding, robotics or game design, they will soon. These efforts have been mostly unregulated, but 22 states in 2018 alone adopted standards for computer science education in K-12, up from six states in 2017.
In the U.S., girls make up 37.5 percent of students in computer science classes in K-12; that number drops to 15.5 percent for girls from historically underrepresented groups. But having standards, federal and state funding, and policies in place that require high schools to offer CS does not necessarily lead to more participation by girls. In fact, programs and classes that reinforce stereotypes about who can do computer science can do more harm than having no class at all.
Girls are less likely to be encouraged by parents and teachers to pursue computing, and less likely to enroll in extracurricular activities than their male counterparts. However, girls are both interested in computing and they are good at it. A recent national test shows that girls are outperforming boys on questions about technology and engineering, even though they are less likely to have taken those classes. And they do just as well as boys in the Computer Science AP test, even though they are much less likely to take it.
So what is the problem?
Continue reading here: https://msmagazine.com/2019/12/09/its-computer-science-education-week-do-you-know-where-the-girls-are/
###
Tagged Digital Nest, ETR