Companies
NextSpace Santa Cruz a Beacon of Light During PG&E Power Outages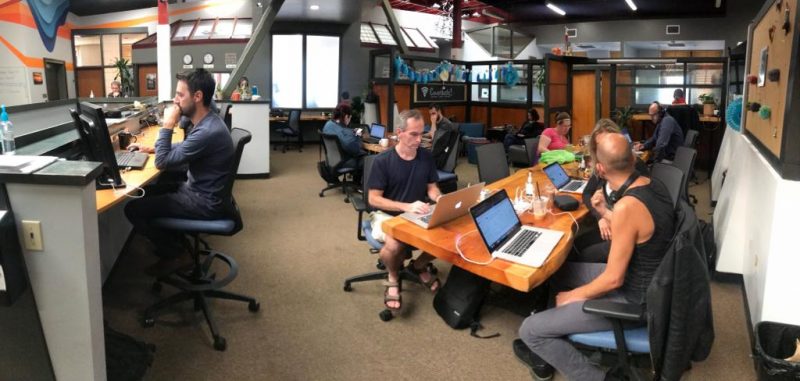 By Keith Warner
Managing Partner, Pacific Workplaces
Special for Santa Cruz Tech Beat
October 30, 2019 — Santa Cruz, CA
(Photo: Members and guests work in the cafe space at NextSpace Santa Cruz earlier in October. Contributed)
NextSpace remains "lit" during the PG&E's planned power outage
While so many residents of Northern California struggle to adjust to the "new normal" of lengthy internet and power outages, NextSpace Coworking in Santa Cruz provides a welcome refuge for entrepreneurs, Silicon Valley tech workers, and office nomads.
The convergence of seasonally warm weather, low relative humidity, and a "15-year wind event" necessitated additional wide-spread power shut-offs by PG&E on Monday, October 28, 2019 and continued in many areas through Tuesday, October 29, 2019.
These power outages affected 1.3 million people in the Bay Area, and an untold number of flex workers – employees who work from home or another "3rd place" rather than commute to their corporate campus – as well as thousands of solo-preneurs and independent contractors that rely on an internet connection to do their job.
Fortunately, NextSpace, located at 101 Cooper Street in downtown Santa Cruz, never lost power, while many other businesses in downtown, including directly across the street and down the street in either direction, were "dark" all day.
NextSpace Community Coordinator, Jennifer Hamilton, recalls the morning of October 28, "one of the most eerie days I've seen in downtown Santa Cruz. All the lights were out in the Locust parking garage where I park. Then, walking to work, the streets were empty as business after business was clearly without power. Even most of the normally bustling downtown coffee shops were closed. I was sure our power would be out as well, but pleasantly surprised to see our lights, and more importantly, our WIFI, humming as usual."
As the day went on, NextSpace became a welcome gathering place for members of its coworking community, as well as a much needed "oasis" for WIFI junkies and freelancers that were discovering this flexible workspace for the first time – over 35 new "day-passers", in fact.
Hamilton explained, "People were coming from all over Santa Cruz county to charge their devices, access the internet, and use meeting rooms; and even from as far away as San Francisco and Sonoma county to escape the smoke." "They came for the power; they stayed for the comradery and our fresh brewed coffee," she added.
While there's no guarantees NextSpace will remain "lit" during the next power outage (which will likely be much sooner than any of us would like), if history is any indication, there's a good chance it maintains power longer and more consistently than most other businesses in the area.
---
Looking for your unique coworking community? NextSpace, powered by Pacific Workplaces, offers coworking memberships, virtual office plans, meeting rooms, and private offices throughout California. Find a location near you.
###
Tagged NextSpace