Featured
Spies. Tech. Travel. Karaoke. Family. Frenemies. Enemies. Love.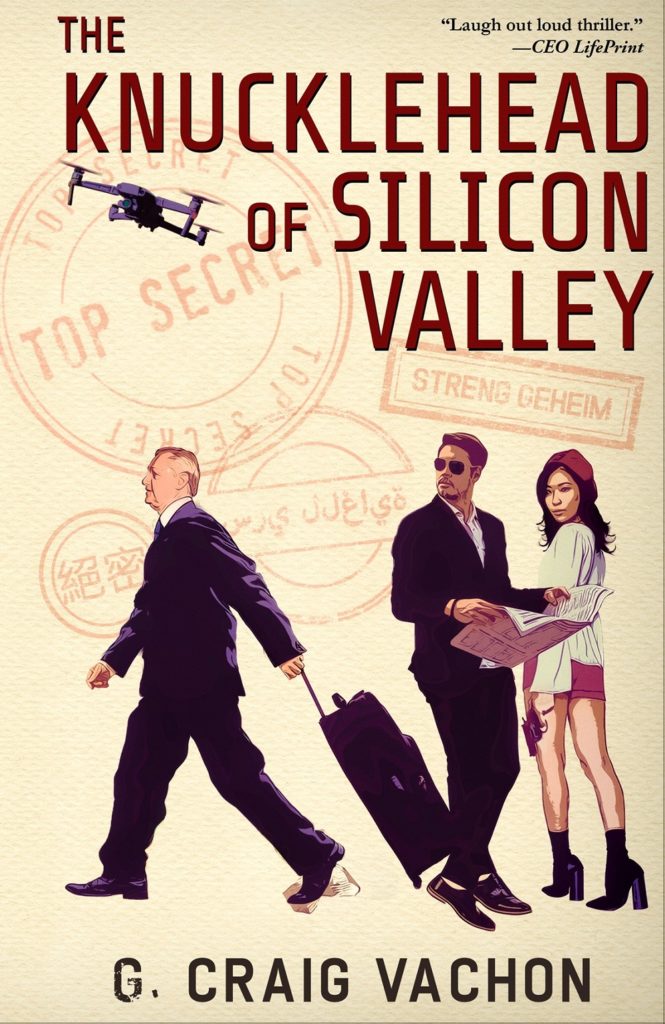 (Contributed)
October 17, 2019 — Santa Cruz, CA
"The Knucklehead of Silicon Valley" is the debut novel of G. Craig Vachon. Release Date is Oct. 25, 2019.
Occasionally goofy, oft-bumbling venture capital (VC) investor Ralph Gibsen inadvertently uncovers a plot to use his new brain-computer interface educational tool as a weapon of mass persuasion. Begrudgingly, Ralph determines he, and an equally reticent team of enigmatic frenemies, might be the only ones who can thwart the forces behind this global cabal.
In an ever-fluid, youth-oriented, cutthroat business environment where rule-breaking and spectacular failures are equally celebrated, Ralph is an older, chubby, travel-weary player who lacks the requisite practiced polish and manufactured poise.
But looks are not always what they seem. Ralph is a capable hacker and innovator who can, when the occasion calls for it, improvise a checkmate move—and that's starting to attract attention of some very powerful people. Is he being targeted for ruin, or groomed for greatness? Probably both. Whether he knows it or not, Ralph just might be a spy… and he's about to discover somebody very, very close to him most certainly is one.
Purchase book here.
Reviews for "The Knucklehead of Silicon Valley"
"A great, eye-opening read. Vachon weaves a story that is both impossible to believe and impossible to ignore—It is ridiculously funny and frighteningly real. Be prepared to learn, to laugh and yes, to worry about what's happening behind the cyber world curtain."—Rick Roth, Global CEO, Ogilvy Action
"It's all too rare to find a fun, seat-of-your-pants, literary romp like this. I got wonderfully lost with Ralph in the many cultures as he travels around the planet. And kudos for the author in the entertaining explanation of how investors examine entrepreneurial ventures for investment. As an investor myself, a lot of the anecdotes and stories resonated with me… wonderful reading."—Raz Zia, former MD at Goldman Sachs and MD at Aldrich Capital
"A must-read if you are into spy novels, or just interested in how technology can impact our lives."—Anthony Gioeli, Silicon Valley entrepreneur and author of "International Business Expansion"  
About the Author
Craig Vachon is, like his protagonist, an overly lucky Silicon Valley-based venture capital investor living on the beaches near Santa Cruz, CA. Craig grew up in Massachusetts as the eldest son of immigrants. After a less than stellar high school academic record, he enrolled in a community college in Western Colorado, and immediately joined the debate team, thus acquiring the game-changing skills of critical thinking and articulation, which allowed him to transfer to Emerson College, where he earned two degrees in Rhetoric.
After graduation, at the urging of his mother and his mentor, he started his own company. Two years later, he sold the marketing company and moved to Tokyo to work with the acquirer.
Over the next 30 years, Craig lived and worked as an entrepreneur in Japan (twice), China, Taiwan, India, Europe, and Canada. He's earned >7.3 million airline miles and typically spends >150 nights per year in a foreign hotel room. His small VC firm (Chowdahead—which is almost-nothing like Clam Pies' VC firm in the "Knucklehead" novel, by the way) invests in great founders of start-up companies who are trying to make the world a slightly better place.
Craig is already writing the sequel to the first "Knucklehead" novel.
###
Tagged Craig Vachon