Featured
UCSC's Genomics Institute settles into new Delaware Avenue headquarters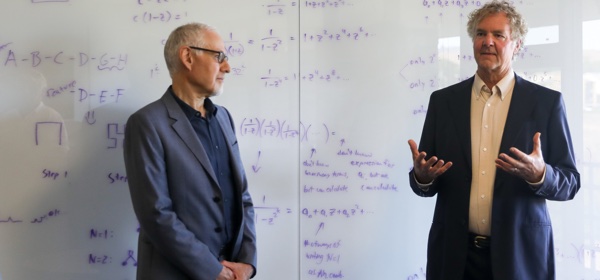 By Tim Stephens
UC Santa Cruz
September 3, 2019 — Santa Cruz, CA
(Photo above: Alexander Wolf, dean of the Baskin School of Engineering (left), with David Haussler, director of the UCSC Genomics Institute, at the new headquarters of the institute at 2300 Delaware Ave. Credit: C. Lagattuta)
Almost 20 years after UC Santa Cruz researchers made history by assembling the first human genome sequence, the campus has formally established the UCSC Genomics Institute as an Organized Research Unit (ORU) providing support for interdisciplinary and collaborative research in genomics across multiple departments and divisions.
The new ORU status coincides with the move of the Genomics Institute's headquarters over the summer to renovated office and laboratory space in the campus-owned complex at 2300 Delaware Ave. on the west side of Santa Cruz. The Delaware Ave. site now hosts about 80 of the institute's researchers and technical and administrative staff.
UCSC's genomics researchers are nationally and internationally recognized as leaders in big data analytics. Their work includes developing platforms and technology to acquire, analyze, store, share, and display huge volumes of genomic data. The institute has become a research powerhouse, with external funding from grants and contracts currently around $25 million per year. This was the projected goal for growth in 3 years, but the Genomics Institute has already reached this level of grants and is now aiming even higher.
The establishment of the Genomics Institute at 2300 Delaware Ave. represents a major step toward the campus's long-term vision for the complex as a premier research center supporting the campus's growing research programs and creating greater opportunities for collaboration and innovation.
A former Texas Instruments facility acquired by the university in 2004, the complex has needed extensive renovations, and work on the site is still ongoing. Over the past few years, however, a growing number of research labs have moved in, including several major laboratories in materials science and engineering. Labs for robotics and smart power research are being readied for occupation in the near future, and the Genomics Institute also has plans to develop new laboratory facilities at the site.
"The formal establishment of the Genomics Institute as an ORU, and its relocation to the Delaware research complex, demonstrates the campus's commitment not only to genomics research, but also to the community of Santa Cruz," said Alexander Wolf, dean of the Baskin School of Engineering. "A prominent research center on the west side of Santa Cruz will foster beneficial collaborations with the growing Santa Cruz tech industry. We're very pleased with Baskin Engineering's pivotal role in this thriving Santa Cruz research and innovation hub."
Revealing life's code
Based in the Baskin School of Engineering, the Genomics Institute brings together staff and faculty in engineering, physical and biological sciences, and social sciences. With a research mission focused on "revealing life's code​," the institute's researchers are using genomics to identify the underpinnings of disease, to unravel evolutionary patterns that guide life, and to unite global communities through genomic data sharing.
David Haussler, professor of biomolecular engineering and founding director of the Genomics Institute, said these are exciting times not only for the institute but for the entire field of genomics.
"We are involved in a new era of genomics that will have a real impact on clinical medicine and patients' lives," Haussler said. "Beyond clinical medicine and genome sequencing, our researchers are applying genomics in areas such as the conservation of biodiversity, evolutionary biology, and forensics."
The Genomics Institute is organized around four major themes: health, nature, technology, and society. Haussler noted that advances in the first three areas cannot be made without tackling the fundamental societal and policy questions raised by the growth of genomic technologies.
"There are huge social issues afoot, with concerns about the privacy of genomic data, ethical concerns about the power of CRISPR technology to edit the genome, and other sensitive issues that need to be addressed," he said.
Faculty affiliated with the Genomics Institute include social scientists such as Jenny Reardon, a professor of sociology and director of the Science and Justice Research Center at UCSC. The institute is also developing partnerships with researchers in the humanities and the arts, including plans for an exhibition of genomics-related art at 2300 Delaware Ave. A new artist-in-residence program at the institute is being led by art professor Jennifer Parker.
Cross-disciplinary interactions
While cross-disciplinary interactions have always been central to the genomics research at UC Santa Cruz, the ORU provides a stronger platform for supporting those interactions, as does the new centralized location, said Benedict Paten, associate director of the Genomics Institute and a professor of biomolecular engineering.
"Obviously, we were able to accomplish a lot distributed across several buildings on campus, but now, having a central place combined with an official basis as an institute will make us much more cohesive," Paten said. "It is so important to have people together in one space, talking to each other and having those serendipitous conversations that lead to new ideas. I think it will have a profound effect on our work as a research institute."
The Genomics Institute's investigators have been at the forefront of cancer genomics, founding the Treehouse Childhood Cancer Initiative to help children with difficult to treat cancers, cofounding the BRCA Exchange to build a comprehensive repository of breast cancer data, and playing a leadership role in the Pan Cancer Initiative of The Cancer Genome Atlas program of the National Institutes of Health (NIH).
The UCSC Genomics Browser, which receives over a million hits a day, is used by biomedical researchers worldwide. In 2017, Genomics Institute investigators joined with the Broad Institute of MIT and Harvard and the University of Chicago to form the Commons Alliance, funded by NIH to create a cohesive cloud-based data storage and computation platform for analyzing biomedical data.
UCSC also has leading experts in several other areas of genomics, including paleogenomics (the study of ancient DNA, including that of extinct animals and humans) and nanopore sequencing, a novel and powerful DNA sequencing technology that analyzes DNA and other molecules as they pass through a tiny pore called a nanopore.
UCSC's genomics researchers have been among the most prolific innovators and entrepreneurs on campus, spinning off several local start-up companies. Ed Green, professor of biomolecular engineering, has started two companies: Dovetail Genomics and Claret Bioscience. Other spin-offs from UCSC genomics research include NantOmics (formerly Five3 Genomics) and Ontera (formerly Two Pore Guys).
Haussler has been a leading advocate of international data sharing, cofounding the Global Alliance for Genomics and Health, which brings together over 500 leading institutions to develop a common framework for secure sharing of genomic and clinical data. Genomics researchers at UC Santa Cruz have always had a commitment to openness, starting with making the first human genome sequence publicly available on the web. Haussler said the institute, as a public institution dedicated to creating a healthier world and a healthier society, will continue to openly share all that its researchers learn and create.
"We have always collaborated to produce and publicly distribute the products of our unique expertise in genome interpretation, molecular pathway analysis, evolutionary genomics, ecological modeling, and disease research that have been so transformative," he said.
###
Tagged Baskin School of Engineering, Claret Bio, Dovetail Genomics, Genomics Institute, NantOmics, Ontera, UC Santa Cruz