Events
Student-run hackathon at UCSC lies at the intersection of tech and diversity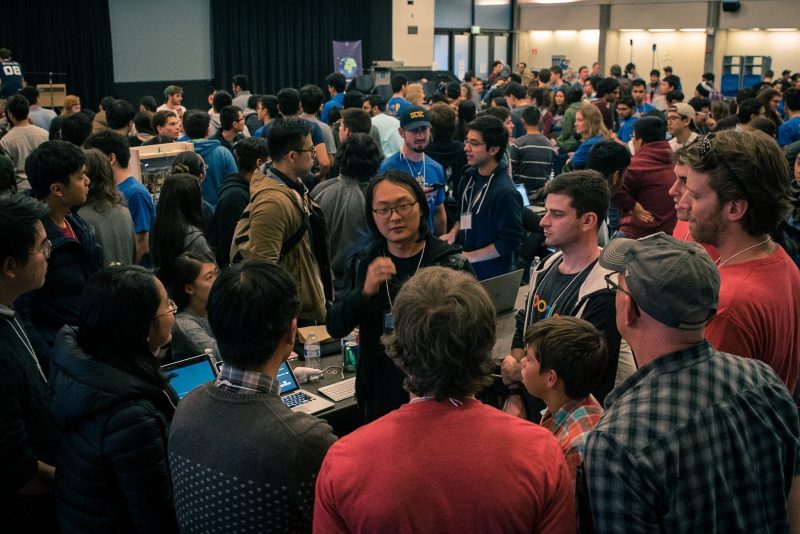 By Rajinder Dhaliwal
CruzHacks Communications Lead
November 6, 2018 — Santa Cruz, CA
(Photo above: 2017 CruzHacks judging in progress. Contributed)
With a new slate of leaders at the helm, UCSC's student organized CruzHacks seeks a sixth successful year in bringing together hackers of all backgrounds for a weekend of innovation. The non-profit hackathon hopes to create an environment in which high school and college students can work collaboratively to harness their talents and make their visions for social change a reality.
Coding in the context of community
CruzHacks differs from other hackathons in its commitment to inclusion and its own Tech Cares initiative, which allows winners in that prize category to give donations to local organizations of their choosing.
In order to more efficiently achieve its goals of diversity, CruzHacks has introduced new initiatives to help first time hackers through pre-hack workshops. These workshops cover many of the basics from HTML, CSS, Python, and Javascript to the fundamentals of Google Firebase. By launching these efforts CruzHacks hopes to engage many would-be hackers who, although as enthusiastic as others, often get ignored by large hackathons. With an unparalleled emphasis on the inclusion of underrepresented groups and service to the surrounding community, CruzHacks truly embodies a vision of a hackathon for all.
What's new at CruzHacks 2019?
This year's event will take place in a new venue from January 18-20, 2019, at 5pm in the Stevenson Event Center. The new location will allow the event to start earlier than in years past, allowing more time for participants as the hackathon hopes to act as an immersive, weekend long experience for all those involved. Part of this experience will reside in the plethora of workshops which will be held during the event. The technical workshops will cater to all levels, addressing topics ranging from basic web development and cloud frameworks to machine learning and blockchain programming. In addition, CruzHacks will also offer several non-technical workshops to allow hackers to take a break when they desire. From dog petting and yoga to video game stations and stargazing there will be recreational options for a wide variety of interests. Regardless of whichever specific activity appeals to any one person, CruzHacks promises to be enthralling weekend for hackers, audience members, and the community at large.
Sponsorship Opportunities
With over 500 participants from more than 25 universities, last year's CruzHacks was an overwhelming success. The reason that the student organized event is able to grow each year is due to generosity and support of its sponsors. In a world increasingly dominated by high tech industries, sponsorship allows companies a unique opportunity to evaluate potential employees and engage with members of the local community. By having an on site presence during the event, sponsors can not only recruit but also discuss their own company's products and services and get feedback from student creators.
CruzHacks has three sponsorship tiers: CENTI, KILO, and GIGA which allow firms of all sizes to get involved. Each tier differs in its monetary commitment and received benefits. For more information regarding sponsorship, contact Amit Saxena at amit@cruzhacks.com.
Important Dates
For those looking to participate in CruzHacks 2019, applications will open on November 10 and close December 10, 2018. Additionally, sign ups for mentor and judge positions will be open soon. Those interested should visit cruzhacks.com and enter their email for updates.
###
Tagged CruzHacks, Hackathon, UC Santa Cruz