Companies
Chris Bley's deep dive into the drone industry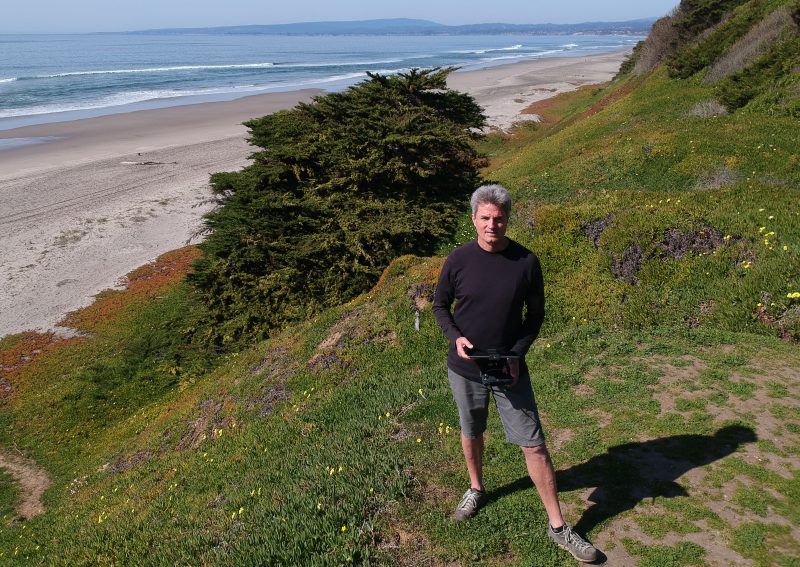 By Karen Kefauver
Special to Santa Cruz Tech Beat
February 25, 2020 — Marina, CA
(Photo: Between all his entrepreneurial ventures, Chris Bley makes time for cycling and flying his drone for fun. Pictured here on West Cliff Drive in Santa Cruz. Source: Contributed)
Chris Bley, serial entrepreneur and tech visionary, has drones on his mind. The cofounder of Monterey Bay Drone, Automation and Robotics Technology (DART) InspecTools, AirSpace Integration and founder of Insight Up Solutions and Rope Partner, is gearing up for the second annual DART Symposium, June 25-26, in Monterey. Bley is committed to Monterey Bay DART's mission to develop the economic initiative that positions the Monterey Bay region as a leader in the broad field that spans robotics, unmanned aerial vehicles (UAV) and unmanned aerial systems (UAS).
DART was born from a chance conversation that Bley had with his Santa Cruz neighbor, Josh Metz, the Economic Development Manager at the Fort Ord Reuse Authority. In 2017, the pair teamed up to create a powerful network of partners in higher education, agriculture, marine and defense. Ultimately, they transformed their vision into reality.
Led by the Fort Ord Reuse Authority in collaboration with multiple public and private sector partners including the City of Marina, the University of California, California State University, Airspace Integration, Joby Aviation and others, DART showcases Monterey Bay as a world-class testing and R&D region in cutting-edge technologies with the annual symposium and DroneCamp plus regular Meetups.
The recent launch of DART shows a common thread in Bley's career as a serial entrepreneur  — bumping into people and starting conversations that lead to big ventures. A Southern California native and UC Santa Cruz grad with a biology degree, Bley is an avid outdoorsman and environmentalist. His passion for cycling and rock climbing led to pivotal points in his career.
Bley, (pronounced "Bly") is as easy-going and friendly as when I first met him in 1996. He shared his experience with Santa Cruz Tech Beat during our 90-minute interview.
SCTB: When did you catch the entrepreneurial bug?
Bley: Through bicycling, I met Hall Jr. and Monte Worthington. Their father's business, Worthington Data Solutions (presently Worth Data), was generating and reading barcodes. He had a small startup back in the 80's. After I graduated from UC Santa Cruz,  Monte suggested I might want to work for his father's growing business. I worked for Worthington Data for eight years, mainly doing tech support. I bugged his father to open an office in Europe and eventually ended up opening up offices in Switzerland and Ireland.
SCTB: After you returned to California from Ireland in 1996, you took five years off. Was that beneficial?
Bley: I got back and said, 'What now?' If I don't have a challenge, I'm not interested. I'm good at saving money and I've always valued experience over consumption. So I took five years off and played a lot of beach volleyball, traveled for six months in Brazil and another six months in France leading bike tours. It was a great experience being on a bike, drinking good wine and eating good food. During that time I was also rock climbing at Yosemite and Joshua Tree.
SCTB: Rope Partner started as a result of your rock climbing?
Bley: Yes. My climbing buddy Robi Jatkowski was visiting Santa Cruz from Germany, formerly East Berlin. He told me he and a friend had a business in East Berlin offering their climbing skills to churches and construction sites that needed work done at height. They were also part of the rope access team that installed the Wrapped Reichstag in fabric as an art installation for Christo and Jeanne-Claude. They were also using rope access in wind energy. As a result, we started  Rope Partner in the United States with a focus on wind energy. Our first job was with General Electric in which we cleaned and inspected a wind turbine in the Columbia River Gorge in Oregon. I called upon my buddies from Pacific Edge Climbing Gym (Bley was an early investor) and hired them for jobs climbing the turbines for the inspections.
SCTB:  You founded Rope Partner nearly 20 years ago and it was acquired by Magnesium Capital in January of this year. Clearly you were onto something early on.
Bley: It was something nobody was doing and I felt it had a larger impact in renewable energy. I was an early advocate of renewable energy and asked myself, 'how could I play a part in that?'  I realized maintenance was important and this was one way to turn something I enjoyed into a business.
SCTB: Tell me about what led you to launch InspecTools.
Bley: I wanted to come up with an efficient way to do wind turbine blade inspections and a better way to organize the images captured. I realized we could do the inspection with drones, capture the images and organize and interpret them instead of having climbers on ropes. This also eliminated human error, subjective versus objective in their report. We wanted to have the images reviewed by larger groups of engineers who can see the images remotely.
In the early days, drones couldn't lift heavier and higher quality cameras. InspecTools wanted to get high resolution images and needed better cameras. We had to build our own drones to support the heavier cameras. We ultimately sold the company in 2018 to a larger drone company called PrecisionHawk.
SCTB: What is AirSpace Integration?
Bley: It came about from needing a physical space for offices but also having outdoor areas to test drones and do research and development. I was introduced to the Monterey Bay Academy private school owned by Seventh-day Adventists. Its huge, unique feature is having a 2,200-foot grass landing field for manned aircraft on 400 acres. The property owners were intrigued and supportive with what we were doing with tech. The campus also has agricultural fields and commercial business operations, like Calfee Design (a bike-building business owned by Santa Cruzan Craig Calfee.) It was ideal because Silicon Valley air space is very complicated. Companies needed a place to come to and do research.
SCTB: You've taken a deep dive into the drone industry! What inspired Insight Up Solutions?
Bley: Insight Up Solutions is a drone and sensor reseller. We primarily work with drone manufacturers on commercial drone technologies for agriculture, energy and public safety. It could also be a weather instruments or for a fire crew to set backfires.
SCTB: What's your typical work day like? What's your work philosophy?
Bley: It's all over the map. I enjoy the variety. My days can be anywhere from meetings, conferences, lobbying, networking, flying drones, exploring new opportunities, researching, to too much time behind a computer. I started out doing everything myself. I was hanging off of the ropes. But I realized that wasn't going to grow the company. I needed to pivot and focus on business development and try not to obsess over things. 
SCTB: What advice do you have for new entrepreneurs?
Bley: Be open, learn and show curiosity about a subject. If you have a passion, people catch on to that. I've always been curious and interested in the natural world, how things work and how it all fits together. Look at the big picture. Sometimes goals that appear unattainable right now can appear around the corner. I also love the whole Meetup scene in Santa Cruz and we have our own DART meetup. Go to these events and find out what people are up to. This can give you a basis to make decisions on the direction you want to head and perhaps find a future business partner.
SCTB: You've launched numerous businesses for nearly two decades, what's changed for you personally and professionally?
I know how quickly time can pass. It's a reality check. I want to do things that will make an impact not just now but over the next 20 years. Time gives you experience and perspective. My work has been relationship-based. It's about teamwork. In any company, it's not necessarily about me, it's about getting the right people together who can accomplish something. There's so much focus on the CEO or investors, but everyone takes the risks in creating something. It's the teamwork aspect that's critical; knowing you are part of something important.
Schedule of upcoming Monterey Bay DART events:
Thu Mar 19, 5-8pm: Drone, Automation and Robotics Technology (DART) Meetup at UCMBEST, 3180 Imjin Rd, Marina.
June 22-25: DroneCamp 2020, Marina.
June 25-26: 2nd Annual Monterey Bay DART Symposium, University Center, CSUMB.
For more details: montereybaydart.org
###
Karen Kefauver is a freelance journalist and social media coach based in Santa Cruz.
###
Tagged AirSpace Integration, Chris Bley, DART, Drones, FORA, InspecTools, Rope Partners