Events
Diverse Voices speaker series will offer insight into tech career success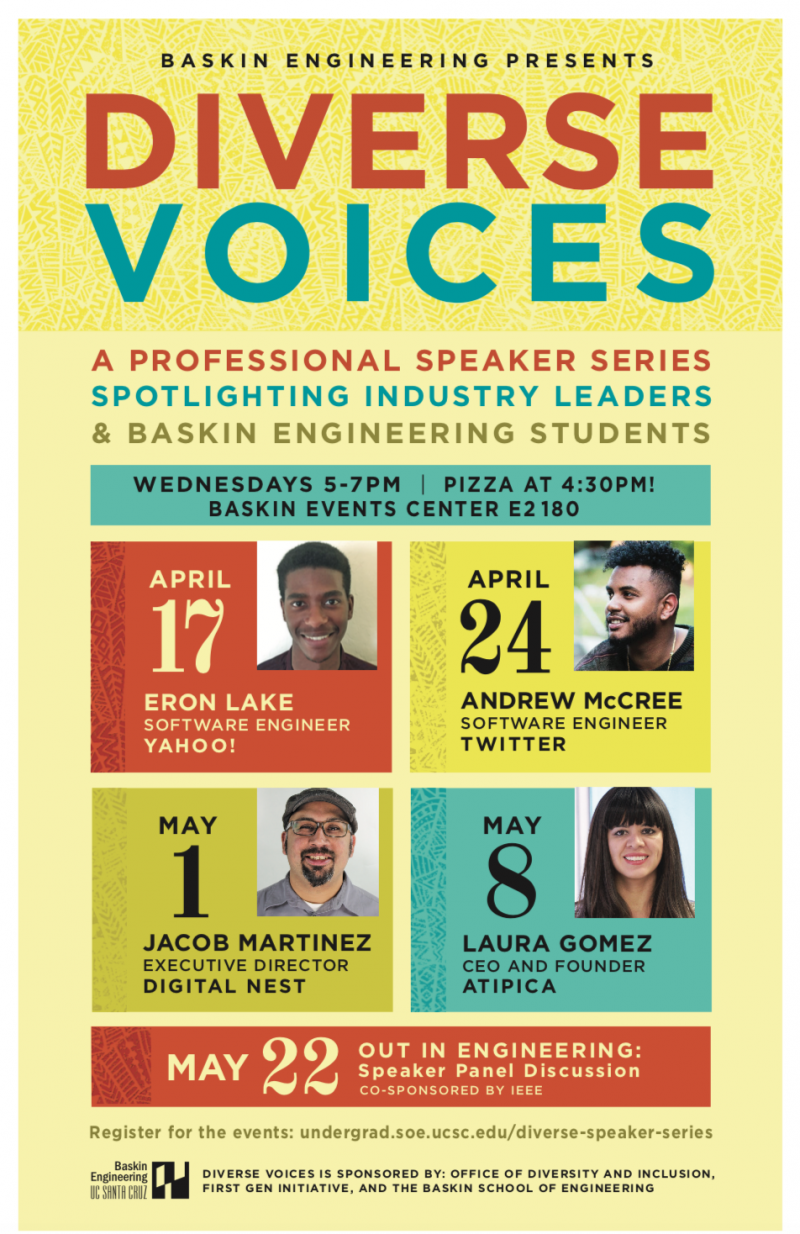 (Contributed)
April 9, 2019 — Santa Cruz, CA
Successful industry professionals share their experiences in the tech sector
The Baskin School of Engineering's inaugural Diverse Voices professional speaker series will provide an opportunity for students to interact with industry professionals in an academic setting and expose students to strong role models from the tech industry. Speakers will include Yahoo! Software engineer Eron Lake, Twitter software engineer Andrew McCree, Digital NEST Executive Director Jacob Martinez, and Atipica CEO and founder Laura Gomez.
The series will take place every Wednesday afternoon in the Baskin Engineering Events Center (E2 180) from April 17 through May 8, 2019. A related panel discussion, organized and hosted by IEEE, will take place on May 22. Each event in the speaker series will include a reception and an interview-style presentation moderated by a Baskin Engineering student or alum, followed by a question and answer session. These talks are open to the public and anyone interested in diversity in tech is welcome to attend. For more information and to register, visit https://undergrad.soe.ucsc.edu/diverse-speaker-series.
April 17: Eron Lake, Yahoo! software engineer
Eron Lake was born in San Jose, California to Guyanan parents. He was homeschooled by his mother and grandmother for the early part of his schooling and attended middle and high school in San Jose. Since earning his degree in computer science and computer science: game design at UC Santa Cruz, Eron has worked as an associate software engineer at Verizon Media/Yahoo Sports and as a gameplay programmer at an independent virtual reality gaming company. He is currently working on his own virtual reality game.
April 24: Andrew McCree, Twitter software engineer
Andrew McCree, born in Los Angeles, California, recently earned his B.S. degree in computer science at UC Santa Cruz. Andrew is now a software engineer on the Search Infrastructure team at Twitter. The team operates the indexes behind many of Twitter's core products, including the ranked Home timeline, recommendations, consumer search, trends pages, data products (GNIP), curator tools, and spam tools, and is tasked with indexing up to 80,000 tweets per second while at the same time enabling these tweets to be queried in real time. Andrew actively works towards understanding failed diversity efforts in tech, while working with industry leaders to ensure that creating a diverse work environment is not only prioritized, but executed.
May 1: Jacob Martinez, Digital NEST Executive Director
Jacob Martinez received his undergraduate degree in ecology and evolutionary biology from UC Santa Cruz and a Master's degree from Cal State University, Monterey Bay. He is currently the Executive Director of Digital NEST, a non-profit organization in Watsonville and Salinas that connects youth to a skill-building community to transform them into professionals who can create successful careers, innovative solutions, and prosperous communities. Prior to establishing Digital NEST in 2014, Jacob spent ten years leading innovative computer-based programs in California, with a particular focus on encouraging Latina girls to enter high tech fields. He is a frequent speaker at technology and educational conferences and has been honored by business, community, and educational institutions for his innovation and leadership.
May 8: Laura Gomez, CEO & Founder of Atipica
Laura Gomez received her undergraduate degree at UC Berkeley and her Master's degree at UC San Diego. Laura's commitment to diversity and representation inspired her to found Atipica, a technology company that has built the world's first inclusive AI platform for the talent life cycle, in 2015. Laura is also a founding member of Project Include, a non-profit that works to give everyone a fair chance to succeed in tech. She is an ardent supporter of the public education system and was recently named one of the Frederick Douglass 200, a project to honor the impact of 200 living individuals who best embody the work and spirit of Douglass. Laura is a member of the FWD.us Innovation Council, the Anita Borg Institute for Women and Technology, and of Code.org's Diversity Council.
May 22: Out in Engineering: Speaker Panel Discussion
Presented by IEEE. More information coming soon.
Learn more and register: https://undergrad.soe.ucsc.edu/diverse-speaker-series
###