Companies
Blix Bikes hosts Packa Cargo eBike launch party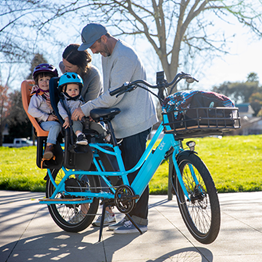 (Contributed)
March 27, 2019 — Santa Cruz, CA
(Photo: Contributed)
[Editor's note: Check out the Blix Packa on Indiegogo. At press time, campaign was over 204% of its $50K goal.]
Local electric bike company holds community-wide First Friday event that will feature an exclusive look at the Packa, Indiegogo video showing, test rides
Blix Electric Bikes, a Santa-Cruz based leader in innovative and stylish electric bikes will host a First Friday launch party for their new compact cargo bike at the Blix Headquarters in The Wrigley Building, 2877 Mission St. on Friday, April 5th from 5 p.m. – 8 p.m. Join them at 6 pm for a special viewing of their Packa launch video as well as a live Q&A with Blix Founder/CEO Pontus Malmberg. This free, community-wide soiree will launch the newest member of the Blix bike family: the Packa, a smart and stylishly designed electric compact cargo bike. Packa means "to pack" in Swedish and riders really can pack it all on the Blix compact cargo bike. The Packa is perfect for families, people looking to replace their car, and anyone looking to spend more time outdoors!
"We're excited to provide our community with a first look and test ride of our new compact cargo bike," said Sarah Owens, Marketing Director for Blix. "This event is a great opportunity to meet our team, ask questions and enjoy a fun celebration."
Join Us at the Launch Party
The community is invited to the Packa launch party featuring a special Indiegogo launch video showing and a live Q&A with Blix Founder/CEO Pontus Malmberg. There will also be providing more information on their Indiegogo campaign and how the community can save by supporting the campaign. Take the Packa, or any of their electric bikes, for a test ride and help celebrate the merging of technology and design for a new way to replace the car and stay healthy.
Date: Friday, April 5, 2019
Time: 5pm – 8pm
Video Showing/Q&A: 6pm
Location: Blix Bike Headquarters in The Wrigley Building, 2877 Mission St. Santa Cruz, CA
The Packa Brings Back the Fun
Designed for the electric bike enthusiast who craves a bit of fun or is looking to carry more cargo, the Packa is fully-featured including:
70 mile range per charge
20 mph speed
Pedal assist and a throttle
400lb Payload (Combined cargo and rider weight)
750w Direct Drive Motor
Dual Battery System
Super compact sizing
Multi-modular rack system
"We looked to develop the perfect balance of convenience and rider friendliness with the Packa at an approachable price point," said Blix founder and CEO Pontus Malmberg. "With the Packa you truly can replace your car."
About Blix
Founded in Santa Cruz in 2014, Blix offers innovative e-bike models including commuters, cruisers, and folding bikes, with over 75 dealers in North America and a dynamic e-commerce site. Founder and CEO, Pontus Malmberg draws inspiration from his Swedish roots to combine electric bike technology with a clean balance of form, function and user-friendly features. Blix electric bikes are affordable and beautifully designed, without sacrificing performance—perfect for an alternative mode of transportation and recreation
For more information, please visit www.blixbike.com and follow us on Instagram and Facebook @blixbike.
###
Tagged Blix Bikes