Companies
Action Sports Tech Companies Thrive on Big Legacy in Santa Cruz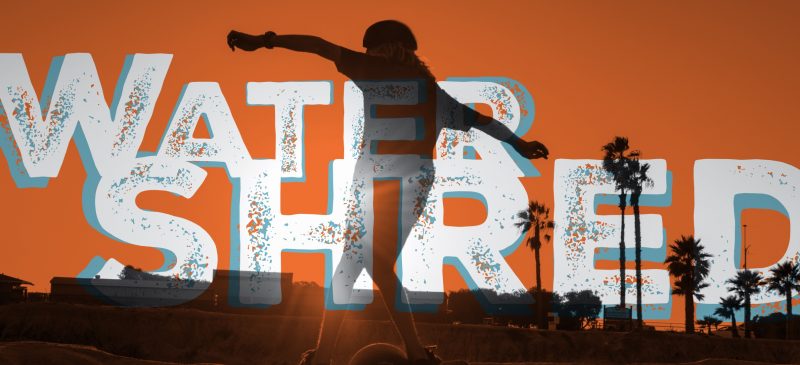 By Heather Putnam
Santa Cruz Works
Special to Santa Cruz Tech Beat
May 22, 2017 — Santa Cruz, CA
WaterSHRED: A celebration of world class, home grown extreme sports innovators and outfitters that fuel themselves on the San Lorenzo River, the perfect setting to demo our county's innovative action sports industry. Ride the riverwalk.
WaterSHRED – Action Sports Expo along the San Lorenzo River
Saturday, June 10, 2017, 11am-4pm
440 Front St., Santa Cruz, CA
Tickets $10
We all know that Santa Cruz is a mecca for action sports. Locals and visitors alike enjoy world-class surfing, mountain biking, and road biking, and our county is full of lively skateboard parks. Climbers can visit Castle Rock and other amazing local climbing sites. But even many locals do not know that Santa Cruz also has a deep tradition of developing the technology behind many of their action sports hobbies.
Skateboards were the real foundation of Santa Cruz action sports – local company NHS was founded in 1973 and is the longest-running skateboard company in the world with its Santa Cruz brand of boards. That decade also saw the founding of Fox Racing Shox in Watsonville, now located in Scotts Valley and manufacturing suspension systems for motorcycles, ATVs, snowmobiles, and mountain bikes.
Mountain Bikes have since led the way to making Santa Cruz an actions sports tech mecca. Ibis Bicycles was originally founded in Scot Nicol's garage here in 1981, and Santa Cruz Bikes followed in 1993 when bike engineer Mike Marquez and Santa Cruz Skateboards' Rich Novak got together with professional skateboarder Rob Roskott to form a partnership that would become the emblematic Santa Cruz company. Further innovations in bicycles have been fostered locally in recent years by companies like Blix Electric Bikes, and Calfee Design, maker of bamboo bikes, which moved its headquarters to Santa Cruz in 1997.
Relative newcomers to the scene have been global innovation leaders – Zero Motorcycles was originally established as Electricross by founder Neal Saiki, and continues to lead the electric motorcycle industry from its headquarters in Scotts Valley. Inboard Technology, producer of the M1 electric skateboard, and Future Motion, distributor of the electric self-balancing board Onewheel, both call Santa Cruz home, and are revolutionizing personal transportation. They are also paving the way for newer action sports tech companies, including Archer Components, maker of electric mountain bike shifters, to thrive here. It is clear that Santa Cruz is not only a great place for action sports connoisseurs, but also action sports innovators.
On Saturday, June 10, you can get to know many of these companies, and even try out an M1, Onewheel, or electric bike, at WaterSHRED Action Sports Expo along the San Lorenzo River. The event is being put on by Santa Cruz Works, Event Santa Cruz, and Coastal Watershed Council (CWC), sponsored by City of Santa Cruz Economic Development, and proceeds benefit CWC.
###
If you wish to republish this article, please follow our Terms of Use.
###
Tagged Blix Bikes, Fox Racing Shox, Inboard Technology, Onewheel, WaterSHRED, Zero Motorcycles