Companies
Let's talk about Blix Bikes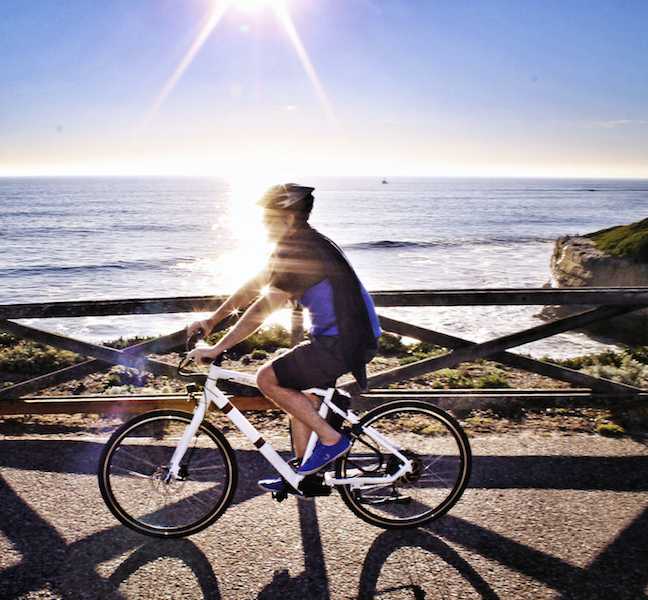 By Sara Isenberg
Editor-in-Chief, Santa Cruz Tech Beat
January 29, 2015 — Santa Cruz, CA
I had the opportunity recently to chat with Pontus Malmberg, CEO of Blix Bikes. We met serendipitously at one of the Cruzio member Bounce Hours. I wanted to find out what makes a Blix BIke special, and because Pontius didn't move here until recently, I wanted to find out why he selected Santa Cruz as the location to set up company headquarters.
SCTB: The Blix product is a sleek electric bike. What makes your product unique from other electric bikes on the market? What problem were you trying to solve when you designed it?
PM: I think that the greatest advantage with an electric bicycle is that it makes commuting easier. But the problem with most electric bikes out there is that they're either too expensive for the regular commuter, or they don't look and feel like a commuter bicycle. We wanted to make an e-bike that's simple and beautiful, a bike that you'd want to ride every day.
SCTB: What makes the battery better than others? How long can you go on one charge?
PM: We only use lithium-ion batteries, which are relatively light and great for recharging. They're designed so that you easily can take it with you — it's about 7 pounds — and charge it from a regular outlet, and positioned below the seat for a low center-of-gravity which gives a better riding experience. The battery gives you up to 30-45 miles per charge depending on the model and level of assistance you're using.
SCTB: How does the electric assist work?
PM: All assistance can be controlled from a little control panel on the steering by our ActiveDrive technology. With that you can easily choose how you want the electric motor to assist you, and also turn on and off the LED lights which are directly supported by the battery. You have three levels of assistance, and an automatic mode that gives you more assistance when you shift down to a lower gear and going uphill, as compared to when you're in a higher gear and going on a flat ground. You also have a throttle to use in case you don't feel like pedaling at all. That one is amazing after a red light, hehe…
SCTB: You're the CEO. What's your background? Are you an industrial designer or a biz dev guy or something else?
PM: I'm from a small suburb outside Gothenburg, Sweden and grew up with cycling everywhere, just like everyone else there. I moved over to the U.S some years ago to get a B.A. in International Business, and most recently worked for the clothing retailer H&M as a Project Manager in their New Business division out of their New York office.
SCTB: You have two locations in SC: one at Cruzio and one on the west side. What's happening where? In addition to having company headquarters in Santa Cruz, do you also manufacture here?

PM: We have our warehouse located in the Wrigley building on the west side of Santa Cruz, and we do all office related work out of Cruzioworks in downtown. All our bikes are assembled in Asia where most parts in the bicycle industry are made. But we're highly involved in the manufacturing process and often on location, giving us control over quality assurance and details in the whole supply chain.
SCTB: You're from Scandinavia. Why did you decide to locate your company in Santa Cruz?
PM: Surfing, haha… No, it's a combination of several reasons. One is that there's a great mix of passion for bicycles and technology here, giving us a good platform for growing as a company. It also allows us to more easily serve a great deal of cyclists and retailers in and around Northern California, which is home to most bicycle commuters in the country. Santa Cruz also provides many ingredients for a high quality of life, and that's what it's all about.
SCTB: Are the people working in the company local SC folks or spread out?
PM: It's a mix. Actually, right now, we consist of a few people working out of Santa Cruz, and we're currently hiring! (Posts on Santa Cruz Tech Beat's jobs page.) We also have partners back in Sweden who we've worked closely with during our startup process.
SCTB: My friend, Karen Kefauver, wrote about the June 2013 SC New Tech Meetup bike tech themed event in Spin City: Santa Cruz bike companies on cutting edge of innovation. It appears there's a long love affair between geeks and bikes in Santa Cruz. Where does Blix fit into the local scene, or is your focus to sell nationally and simply headquarter in SC? (Editor's note: Aside, it was funny to reread Karen's article on how the room was full at 60. Back in the day. These days the SCNTM is full at 240. Same room.)
PM: Well, I might be a geek in many ways, but I hope we can contribute with something new and exciting to the local bicycle scene by also integrating two other local passions: technology and art. For example, the design of the bikes and even our company logo is made by an artist based out of New York and Santa Cruz, Jocelyne Gilead. Check out her art, it's truly amazing.
SCTB: Test drives? How does one sign up?
PM: Anyone and everyone can come test ride models at our warehouse location on Mission Street! Just go to our website, and sign up under "test ride."
###
Tagged Blix Bikes