Companies
Blix: On the road to an electric biking community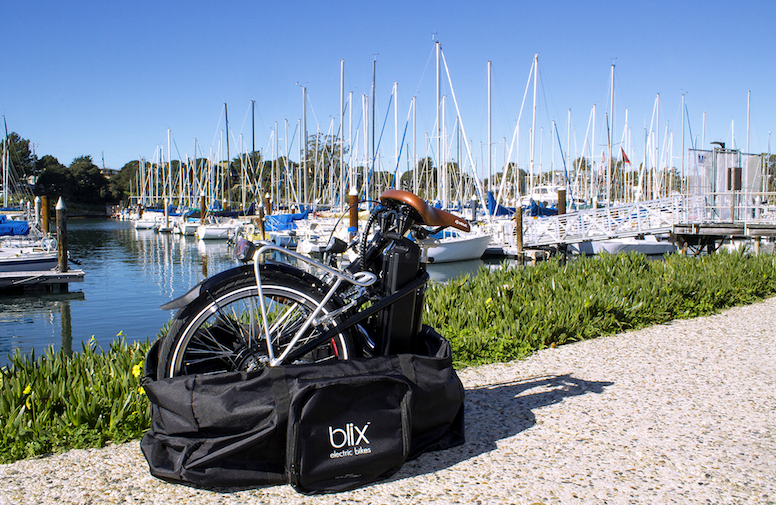 By Pontus Malmberg
CEO/Founder, Blix Bicycle
Special to Santa Cruz Tech Beat
March 25, 2016 — Santa Cruz, CA
(Photo above: Smart solutions for smart commuting. The foldable Vika+ in the Santa Cruz harbor. Contributed.)
[Editor's note: Santa Cruz Tech Beat published Let's talk about Blix Bikes, January 28, 2015. It's time to catch up and find out what happening at Blix.]
With a purpose to make things better
Blix was inspired by a desire to create an approachable alternative to car commuting. With cities growing faster than ever before, traffic times and the environment are being impacted at alarming rates. I believe electric bikes can help solve these issues. Statistics show that people start biking twice as often when they start using an electric bike. That example makes me believe that we can change things for the better.
When growing a company that wants to change the way we commute by merging bicycles and technology, Santa Cruz seemed like an ideal location from the very start. After moving here at the end of 2014, the expectations on the coming year were high – both for Blix as a company but also for Santa Cruz as a city. Both delivered above expectations.
To do it right
With bike commuting currently on the rise in the U.S, up nearly 60% over the last decade, and a need for cities to provide viable alternatives for transportation, we knew from the start that electric bikes have a real potential to not only substantially impact the whole bike industry but also completely change commuting habits in the U.S.
But since electric bikes have been around for many years now, why don't you see them everywhere in the streets if they're that useful? Well, the challenge is to make an electric bike as convenient and practical in reality as it sounds in theory, to make it reliable, practical, stylish and relatively affordable for the everyday commuter – all at the same time. That is what we're working on every day at Blix, with our home base in the creativity focused Wrigley building on the westside of Santa Cruz.
What happened in 2015?
2015 was busy for Blix. We grew our dealer network from 0 to more than 30 stores in 12 states and 17 cities in the U.S and Canada, saw thousands of happy new "ebikers" in the streets, and even added a second line of electric bikes that won an award at Eurobike – the world's leading trade fair for the cycling industry.
Blix partnered up with Walleräng E­bikes in Sweden to launch the Walleräng E­bike line in North America during the fall of 2015. O​ur first model, the M.01, is assembled in Sweden and features the award­ winning Walleräng's Modular Travel System ­ in front and rear carrier system that attaches directly to the bike frame and can easily handle heavy loads, like groceries or camping gear, and keeps valuables, like a laptop bag or a large purse, secure and in view at all times.
It's one of the few e­bikes in the U.S. to feature the Shimano STEPS system that integrates a mid­drive motor with the Alfine 8­speed internal hub gears and Di2 electronic gear shifting that can also be fully automated at the touch of a button. With a battery that last up to 90 miles, it really has all the features the modern commuter can ask for.
What's next at Blix?
The Walleräng M.01 will begin shipping in April. We're going to focus much of this year on building brand awareness of our two brands, Blix and Walleräng, and expand our dealer network, as well as be part of many fun events around the country so we can let as many people as possible get to understand and test ride our bikes. We also have local events in the plans, e.g. raffle away a brand new bike on bike­-to-­work day in Santa Cruz, so don't miss it!
For more info go to: www.blixbike.com and www.wallerang.com.
###
If you wish to republish this article, please follow our Terms of Use.
###