Featured
Human-computer interaction experts join Baskin Engineering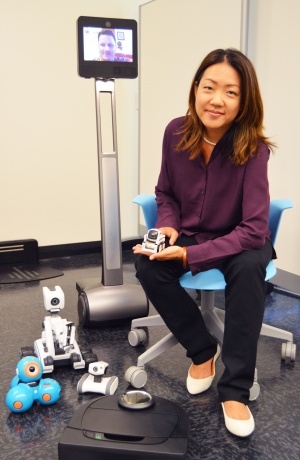 By James McGirk
Baskin School of Engineering
March 26, 2019 — Santa Cruz, CA
(Photo above: Professor Leila Takayama surrounded by robots. Source: BSOE website.)
Associate Professor Leila Takayama and Professor Steve Whittaker have joined the UC Santa Cruz Baskin School of Engineering's Computational Media Department. Both professors came from the Psychology Department at UCSC.
Steve Whittaker has over 20 years of experience in human-computer interaction. He joined UC Santa Cruz's Psychology
Department in 2011. He is editor of "Human Computer Interaction" (one of the top two academic journals in the field), holds over 40 US/EU patents, and was appointed a fellow of the Association for Computing Machinery (ACM) and awarded an ACM CHI Lifetime Research Achievement Award in 2014.
"I'm interested in developing technologies that will improve people's lives," Whittaker said. "That involves questions that are broader than how to build them; I'm very interested in the way that technology impacts people's lives and, from the human side, to take what's known about people — their strengths and weaknesses — and incorporate that into the design process."
Leila Takayama has been at UCSC since 2016. She was named one of MIT Technology Review's "35 innovators under 35" in 2012, worked for Google X as a senior user experience designer from 2013 to 2016, earned an IEEE Robotics and Automation Society Early Career Award in 2015 and founded Hoku Labs, a human-robot interaction research consultancy.
"I do research in human-robot interaction," Takayama said. "Which is at the intersection between social sciences, computer sciences, all those fields which inform human-centered design technology, including robotics."
UC Santa Cruz Professor Leila Takayama describes her research.
UC Santa Cruz Professor Steve Whitakker describes his research.
Originially published here: https://www.soe.ucsc.edu/news/human-computer-interaction-experts-leila-takayama-and-steve-whittaker-join-baskin-engineering
###