Featured
$1.2M for Genomics Institute's Kids Cancer Project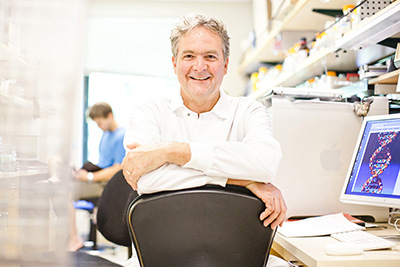 By Tim Stephens
UC Santa Cruz
August 6, 2015 — Santa Cruz, CA
(Photo above: David Haussler is scientific director of the Genomics Institute. Credit: Elena Zhukova)
California Initiative to Advance Precision Medicine funds UC Santa Cruz pediatric cancer project
The California Kids Cancer Comparison project led by the UC Santa Cruz Genomics Institute is one of two demonstration projects selected by the new California Initiative to Advance Precision Medicine, a public-private effort launched by Governor Edmund G. Brown Jr. The initiative is being hosted by UC San Francisco, in conjunction with UC Health, which comprises the University of California's five medical centers.
Both projects aim to yield quick results for patients and involve extensive collaborations within the UC system and with other academic medical centers in California, as well as with patient advocates and companies in Silicon Valley and the biotech industry. They were selected by an expert review panel from a highly competitive group of proposals submitted by collaborative teams around the state.
Scientists at UC Santa Cruz will harness big data bioinformatics to help doctors identify effective treatments for California children with cancer who fail to respond to standard therapies. The other winning proposal, led by UCSF, will enable detection of all known pathogens with a single DNA sequencing test, to diagnose acute infections in hospitalized patients.
Exciting new tools
"Both of these projects are developing exciting new tools that promise to deliver precision medicine tests and therapiesto patients within a very short timeframe, as quickly as 18 months to two years," said Atul Butte, MD, PhD, who directs UCSF's Institute for Computational Health Sciences and is heading the precision medicine initiative. "We hope the success of these first two projects will inspire others to support this initiative, so we can fund additional promising precision medicine projects to help patients."
At UC Santa Cruz, David Haussler, professor of biomolecular engineering and scientific director of the Genomics Institute, and research associate Theodore Goldstein, a former Apple vice president, will lead the development of a secure Internet-based networking system to match cancer therapies to individual children based on the genetic characteristics of their tumors. The California Kids Cancer Comparison will enable clinicians to sort through a much larger pool of genetic data than has previously been available, including tumor sequencing data from children throughout California and around the world, as well adults. And it will enable patients, their advocates, clinicians and researchers to upload, analyze and communicate genomic information and associated data through MedBook, a social media platform developed by Goldstein that maintains privacy and security for patients' data.
Continue reading article here: http://news.ucsc.edu/2015/08/childrens-cancer.html
###