Featured
New Facebook Group Launched for Santa Cruz Women in Tech — How it Started and Why it Matters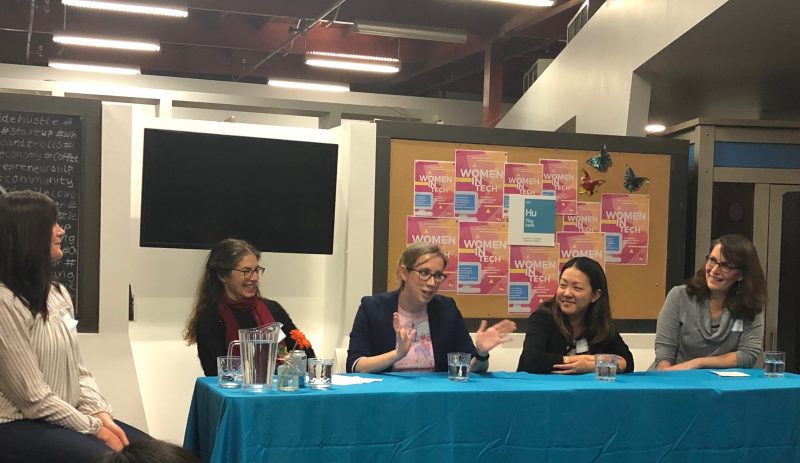 By Karen Kefauver
Freelance journalist and social media marketing coach
Special to Santa Cruz Tech Beat
March 19, 2019 — Santa Cruz, CA
(Photo above: The author was inspired by the Santa Cruz Women in Tech event held on March 5, 2019 at NextSpace. From left to right: Tiffany Jones, moderator, and panelists Sara Isenberg, Kathleen Tuite, Leila Takayama, Sue Dayton. Credit: Karen Kefauver)
I'm a wannabe geek, but I'm not hardwired to write code, design robots or study computational math. And that's ok. I track tech developments closely and can be a geek by association. At events hosted by the New Tech Meetup, NextSpace and others, I hang out with tech industry insiders, listen to leading speakers and hobnob with men and women who are shaping technology right here in our own backyard and in Silicon Valley.
Challenges for Women in Tech
At these events, I'm especially interested in talking to women about their triumphs and challenges in the fast-paced and high pressure tech industry, which has a troubled history of inclusivity for women. I admire women's achievements and right-brained talents— so different from my own. Also, from their personal anecdotes (and media coverage), I know that women face entrenched sexism and implicit bias in the male-dominated tech industry. Too often, women's voices have been drowned out or ignored.
Women's Voices Unified
I want to make sure women's voices are heard. That's why I recently launched a Facebook group called Women in Tech Santa Cruz. The intention is to create a safe space, with vetted membership, for women to speak up, build community and provide support, resources and advice. Shortly after launching, the group's membership swelled to 65 women, with more than 500 interactions on the page. This group wasn't born out of the blue; my inspiration came from NextSpace's event, "Women in Tech, NextSpace Edition."
NextSpace Meetup
At that March 5th meetup, a crowd of dozens heard from a panel of experts about what it's like to navigate a career in the tech industry. One by one, panelists Sue Dayton, UX/Product design consultant; Kathleen Tuite, software engineer and founder of Feminist Hacker Barbie; Sara Isenberg, Santa Cruz Tech Beat founder; and Leila Takayama, Acting Associate Professor at UC Santa Cruz, told a rapt audience how they got their start, overcame challenges and what advice they'd give women starting out in the industry.
Candid Discussion
Following the presentation, panel moderator Tiffany Jones, Producer/Digital Product Manager at Design by Cosmic, led a compelling Q&A. That candid conversation, fueled by momentum and enthusiasm, led to the consensus that this energy had to be carried forward with more opportunities to connect on these vital topics. And thus, the Facebook group was born. Above all, the group is a place to share experiences, both good and bad, without judgement.
Both at the NextSpace panel and last year's New Tech Meetup Women in Tech event, women speakers specifically expressed appreciation for men who have stepped up as valuable mentors, allies and skillful communicators alongside them.
Increased Awareness
I believe the launch of this Facebook group for women in tech is especially timely. During the #MeToo era, I'm witnessing an unprecedented level of awareness about the balance of power between men and women. Perceptions and behavior are shifting. It's often a fraught conversation. In this new Facebook group, women in tech are sharing their personal and professional peaks and valleys.The more opportunities to discuss these constantly evolving changes, the better.
###
Karen Kefauver has 20 years' experience as a freelance journalist and is a social media marketing coach. Karen@karenkefauver.com.
###
Tagged NextSpace, Santa Cruz Women in Tech