Companies
NextSpace ranked #1 of top 75 coworking spaces in U.S.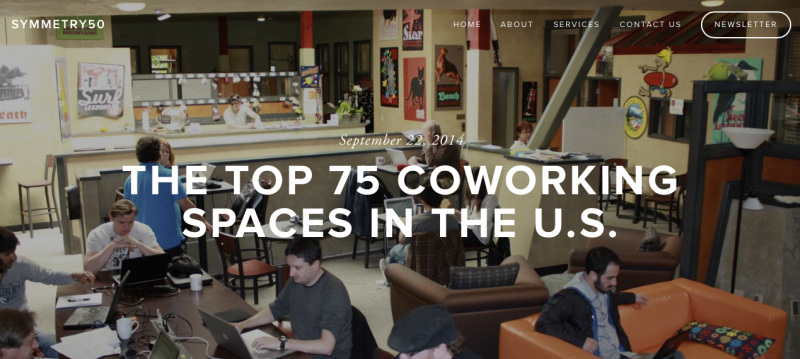 by Sara Isenberg
Santa Cruz Tech Beat, Publisher
Symmetry 50 recently published their list of the top 75 coworking spaces in the country. And guess what? They ranked NextSpace as the #1 space in the U.S.
Of course, even though Symmetry 50 called out NextSpace in San Francisco, we all know that NextSpace started in Santa Cruz. NextSpace now has 9 locations, with a 10th on the way. Stay tuned.
From the article:
NextSpace is the workplace for the new economy. They provide innovative physical and virtual infrastructure that freelancers, entrepreneurs, and the creative class need to succeed in the 21st century.

NextSpace sells membership into a collaborative community. Their members come from a wide variety of industries: software, design, marketing, legal services, architecture, and engineering just to name a few. Some are lifelong freelancers, while some have been downsized from bigger companies and are just beginning to venture out on their own. Some telecommute to bigger companies on the other side of the country or the other side of the world. Some are startups, starting growth-minded companies with dreams of a big exit, while some are using their skills simply to earn a living.

Like a gym for freelancers and entrepreneurs. You can set up your desk in your living room, just like you can set up a treadmill, but really how much fun is working or working out alone? Working alone kinda sucks. Just think for a moment what it could create for you business if you spent even a few days a week in an environment where everyone around you was also working on their business.

We are smarter as a collective. You may have noticed that talking with other entrepreneurial types leads to insights that leap your business forward or blow out blockages. They have a wide variety of businesses in the NextSpace coworking community. Coders, web designers & developers, branding designers, social media strategists, intellectual property lawyers, nonprofits protecting the environment, people changing cancer research and protecting privacy on the web, experts in building websites for small businesses, landscape designers, just to name a few. While serious work happens at NextSpace they also enjoy having fun.
Read full list here: http://www.symmetry50.com/blog/2014/9/11/the-top-75-co-working-spaces-in-the-us
###
Tagged NextSpace