Companies
Women Leaders in Spotlight at Salinas Valley Ag Tech Summit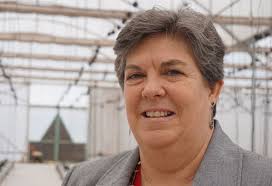 By Amy Wu
(for Hartnell College)
February 26, 2019 — Salinas, CA
(Photo above: Glenda Humiston, vice president of agriculture and natural resources for the University of California, will address opportunities in creating a 21st-century, knowledge-based workforce to meet the demands of the sector. Contributed)
The sixth annual Salinas Valley Ag Tech Summit, to be held March 26-27 at Hartnell College, will feature a spectrum of women leaders and entrepreneurs as panelists or keynote speakers.

Blockchain, remote sensing and finding ways to build a 21st-century workforce for California agriculture are just a few of the timely topics that headline this year's Salinas Valley Ag Tech Summit, themed "Tomorrow's Technology You Can Use Today."
The sixth annual summit, to be held March 26-27 at Hartnell College in Salinas, Calif., also will feature a spectrum of women leaders and entrepreneurs as panelists or keynote speakers.
"It is important to highlight the important and progressive contributions women as the industry tries to solve challenges it has not previously faced," said Nick Pasculli, chair of the 2019 summit and president and CEO of TMD Creative. "I am thrilled with the direction we are going as a regional industry and even more excited that Hartnell College is helping expand the dialogue."
This is a pivotal time for women leaders in American agriculture. Thirteen women are heading state agriculture departments including California and Florida, two of the biggest agriculture states, according to the National Association of State Departments of Agriculture.
The summit's lineup of speakers includes Suzanne Livingston of IBM, who will share how the company is using blockchain, a form of digital cryptography, to increase food security. Considering recent headlines from the romaine lettuce recall resulting from E. coli to the discovery of parasites in salads, the sharing of potential solutions is timely and welcome.
Major retailers such as Walmart and Costco are increasingly relying on blockchain to track the origins and handling of produce before it reaches consumers. In 2017 IBM launched the IBM Food Trust, a network of more than 30 growers, retailers, wholesalers, suppliers and manufacturers that also includes Kroger's, Dole and Driscoll's. They use IBM's blockchain platform Hyperledger to address issues from food safety to fraud.
Livingston, the director offering management for IBM Food Trust, oversees a global team including scientists, engineers, designers, inventors and growth hackers. She has a significant tech background and expertise in knowledge and information management, product design and web application development and also regularly blogs about social software for IBM.
In addition to her presentation on the IBM Food Trust on the morning of the summit's main day, Livingston will hold a smaller session in which she will offer consultation and advice on food safety tracking.
Societal and cultural shifts
Among the summit's keynote speakers is Glenda Humiston, vice president of agriculture and natural resources for the University of California. She will address opportunities in creating a 21st-century, knowledge-based workforce to meet the demands of the sector.
Growers in California and across the country continue to face such challenges as a severe labor shortage, limited water and land supply, feeding the world's growing population and attracting a new generation of farmers, Humiston said.
"Part of the problem is when you talk about agriculture, people think there are only two jobs there, farmer or farmworker," she said in a recent video on behalf of her division of the UC. "There's thousands of jobs, literally thousands of jobs, in the ag ecosystem — laboratory people, irrigation specialists, mechanics, people operating drones— so we've just got to get people to understand that there are some very cool, very fun, and pretty well-paying jobs out there in that sector."
These roles include plant geneticists, researchers and market advisors and will involve drones, apps and robotics.
Humiston said the shift to mechanization isn't displacing farmworkers, but rather extending opportunities and jobs in areas that require different skills and often come with higher pay and more stability. The impact extends beyond improved livelihood and lives of family and community to the regional and state economies.
Tremendous opportunity is available for women passionate about agriculture, technology and food, she said, noting their concern for health, wellness and nutrition. At the same time, more grower families hand the land to daughters rather than sons. The American Farmland Trust reports that an estimated 301 million acres of U.S. land — about a third of the nation's farmland — are now farmed or co-farmed by women. Programs such as California FarmLink and Agriculture Land Based Training Association (ALBA) also encourage women and people of color to become growers.
In addition, the Salinas Valley has spawned programs that are building a pipeline of new talent. Csin3, a collaborative three-year computer science degree offered by Hartnell College and California State University, Monterey Bay. With a 70 percent graduation rate, 40 percent of its students are women and 93 percent belong to an underrepresented minority. Alumni include Rivka Garcia, now a business analyst and developer at Mann Packing.
Ag tech entrepreneurs
Challenges and obstacles in agriculture have also spawned a steady uptick in the number of ag tech startups across the country, including some led by young women in their 20s and 30s.
A number of the startups housed inside the Western Growers Association Center for Innovation and Technology (CIT) in Salinas are led by women, including PastureMap and Bear Flag Robotics.
Bear Flag CEO and founder Aubrey Donnellan will also be speaking at this year's Ag Tech summit and likely will share more about the success of her company, known for its autonomous tractors.
Other women speakers at this year's summit include:
Sharon Benzen, Agronomist, U.S. Department of Agriculture
Cara Brents, Monterey County Agriculture Commissioner's Office
Jenna Rodriguez, Account Executive, Ceres Imaging
Nancy Gutierrez, California Community College Chancellor's Office
Event details
The summit will open March 26 with a President's Opening Reception from 6-8 p.m., featuring local wines and hors d'oeuvres and participation by industry leaders. The main Ag Tech Summit program on March 27 will begin with a continental breakfast at 6:30 a.m. The morning schedule will feature three educational tracks: ag business, ag production and pest control. Ongoing throughout the day will be a vendor trade show, hands-on demonstrations and more.
Event admission ranges from $30 to $60 depending on early registration, as well as a new combined main event Summit and President's Opening Reception ticket option. Community members, ag industry members, growers, PCAs, CCAs, QALs, pilots, students and participants in ag tech and software industries are encouraged to attend. The event is organized by the Hartnell College Agriculture Business and Technology Institute in collaboration with the Monterey Bay Chapter of the California Association of Pest Control Advisers (CAPCA).
For registration and other event details, visit: http://svagtechsummit.com/.
###
Amy Wu is the founder and chief content director of "From Farms to Incubators: Telling the stories of minority women entrepreneurs in agtech in the Salinas Valley and beyond," an award-winning documentary and multimedia storytelling initiative. She is completing a book, "From Farms to Incubators," highlighting women entrepreneurs in ag tech in California that will be available at this year's summit. Wu can be reached at amy@farmstoincubators.com.
###