Events
Steinbeck Festival Hosts Women in Agtech: Film Screening and Panel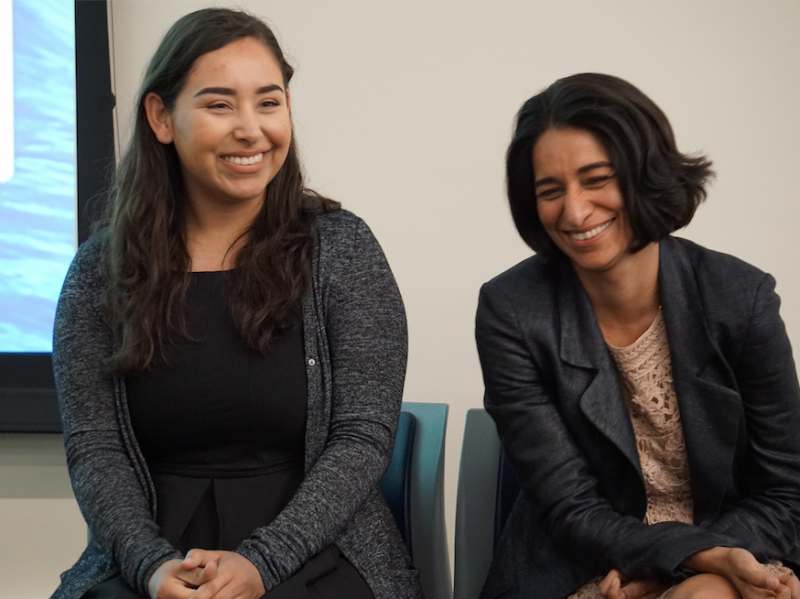 By Amanda Blackwell
International Environmental Policy M.A. Candidate '18, Middlebury Institute of International Studies at Monterey
May 11, 2017 — Salinas, CA
(Photo above: Left, HeavyConnect's Rivka Garcia and right, AgShift's Miku Jha share their experiences at the screening of `Farms to Incubators' at the May 6 Steinbeck Festival. Credit: Iris Nolaso)
The annual Steinbeck Festival, which pays homage to the great author, passed this last weekend May 5th through May 8th. This year the theme of the festival was 'Migrations.' The event centered around a series of seminars, each telling a different story about the impact of human and wildlife movement throughout the world.
"Incubator to Farm: Minority Women Working in Agtech" was screened Saturday. This film, by Amy Wu and Chris Schodt, highlights the journey of several women working in the Bay Area and Salinas Valley in the agricultural technology sector. The women, who come from diverse backgrounds, some of whom have migrated from their home countries, showed their entrepreneurial spirit as they discussed challenges and successes in their industry.
The film screening was followed by a panel discussion hosted by Amy Wu as she interviewed three women from the film. Panelists included:
Miku Jha – Founder and CEO of AgShift, which makes compliance reporting for farmers more manageable and compiles data to help farmers make decisions about the crops they grow. AgShift is based in Santa Clara, California.
 Le Thuy Vuong – Founder of Fishrock Laboratories, Inc. and Researcher and Developer of Redmelon Oil which is a carotenoid-rich product made to address vitamin A deficiency. Fishrock Laboratories is based in Davis, California.
Rivka Garcia – Product Manager at HeavyConnect, an app that provides for simple data collection by farmers and farmworkers, reducing the need for paperwork on farms. HeavyConnect is based in Salinas, California.
One question Amy asked focused on how the theme of migrations relates to the emergence of minority women in the Agtech sector. Rivka mentioned that more women are receiving college degrees, making them more competitive in the workforce. Miku acknowledged that there are many challenges to women entering this field but that Salinas is an Agtech hub, and she believes women's positions in the field will begin to expand into other regions. Le, who works to improve the health of Vitamin A deficient people in Southeast Asia, knows that the impacts of migration mean she can help children in Vietnam from her lab in Davis.
The mood in the room was uplifting and inspirational. Looking toward the future of women in Agtech, both Rivka and Miku spoke on the importance of mentorship. Under-representation of women in technology is something they hope to address by influencing the next generation of women to succeed and push past challenges.
View the film:
Incubator to Farm: Minority Women Working in Agtech from Chris Schodt on Vimeo.
###
Tagged agtech