Companies
Hartnell Hosts Third Annual Salinas Valley AgTech Summit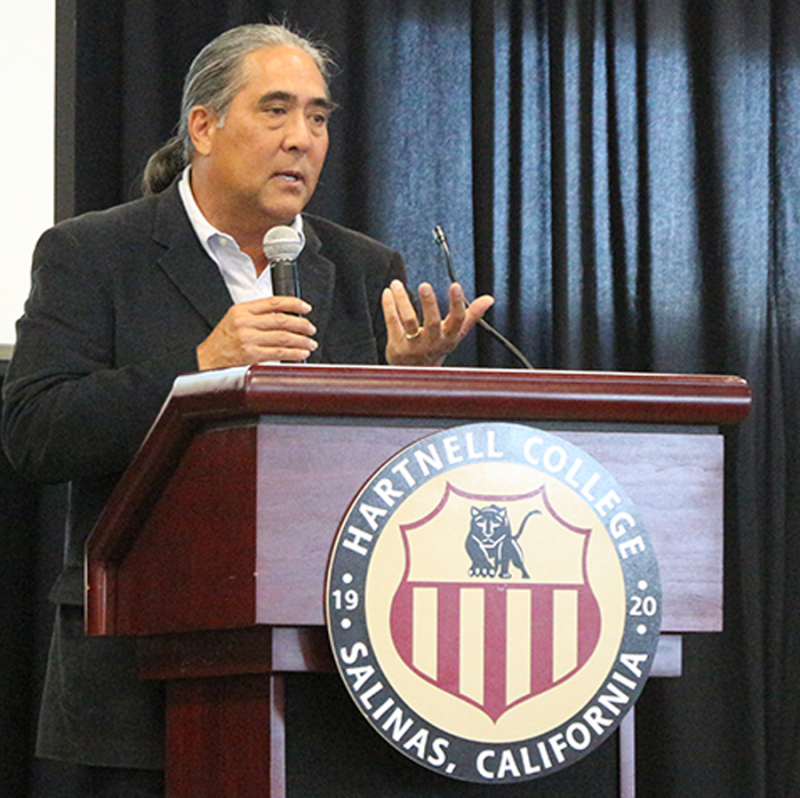 By Jan Janes
Special to Santa Cruz Tech Beat
April 2, 2016 — Salinas, CA
(Photo above: Keynote speaker A.G. Kawamura, former Secretary of the California Department of Food and Agriculture, 2003-2010, talked about new directions in agriculture during the 2016 Salinas Valley Ag Tech Summit at Hartnell College. Credit: Jan Janes Media)
More than 500 people trekked to the Salinas Valley AgTech Summit at Hartnell College's Alisal campus last Wednesday, bringing collaboration and curiosity to explore new tools in agriculture.
Stewards of the land
Participants, from high schoolers in STEM programs to industry leaders in policy and regulation, immersed in sessions ranging from mechanization and robotics to genomics and startup strategies. The summit, originated in 2014 by Steve McShane, with Converted Organics and a Salinas City Council member, featured more than 30 sponsors and 45 trade show exhibitors.
"This event has doubled in size each year as it showcases how our leading researchers, businesses, trade organizations and educational institutions are applying technological solutions within a global agriculture marketplace," said Susan Pheasant, Hartnell College Ag Institute Director.
Keynote luncheon speaker A.G. Kawamura, former Secretary of the California Department of Food and Agriculture (2003-2010) and third generation fruit and vegetable grower, spoke of the public's expectations, new tools, direction and pressure for sustainability.
"We have to be good stewards, create a robust future," said Kawamura. "We have the vision to make things better."
Creating a grower pipeline
"We have two droughts in California," according to Richard Cavaletto. "One is of water, one is of talent." As associate dean in agriculture with CSU San Luis Obispo, he detailed the challenge of recruiting and developing growers' future agricultural employees. Students in STEM, computer science and business programs will be recruited to fill the gap.
"They don't comprehend what it takes to get food on the table," he said. Area colleges need to package degree programs to interest and train young people. Cal Poly accepted fewer than 10% of its 57,000 applicants this year, and many students do not have the economic means to attend UC Davis.
Local colleges partner on articulation
"Two colleges at CSUMB take the lead in support of the area's agriculture industry," according to Eduardo Ochoa, president of CSU Monterey Bay, describing the coordinating degrees recently developed in the colleges of science and business.
"A focus on ag business, and a close collaboration with Hartnell in a 2+2 program," he said, emphasizes an articulated course of study between the two colleges. Students graduate in four years, with access to resources at both campuses and a fast track to transfer.
"This area had incredible public-private partnerships," said Willard Lewallen, president of Hartnell College. "And somewhere at a point in time in the past, they disappeared." The ag industry stepped in with seed money and advisory resources to fill the gap.
"We just received a National Science Foundation award, $750,000 over three years," he said. "This will fund ag tech and science degrees coming together."
The developing areas of study attract Silicon Valley companies and help grow local tech companies. "We want to attract and keep local talent," said Ochoa. "Get educated here, get jobs here, live and raise your families."
Make smart farms? Make smart farmers.
During the daylong conference, panel sessions presented industry experts in mechanization, startup strategies, regulatory issues, software, robotics, coding for K-12, R&D, genomics, ag-tech education, emerging technologies and new products.
Many sessions were standing room only, with vocal participation and perspective. A morning session focused on making smart farms. Countering that perspective, Tony Koselka, Vision Robotics, asked, "How do you get a smart farmer?"
Every farmer, according to him, is an accountant, HR expert, hydrologist, mechanic, horticulturist, hedge fund manager. Before applying technology to the industry, the farmer needs time to look at the problems, think about things he needs to fix, and how. "It's creating time and value and brain, mindshare for that farmer to be able to move forward," he said.
"The problem is the technologists coming down aren't listening to them," said Patrick Zelaya, CEO of Heavy Connect, and instead offer simple solutions, drones or data platforms. "You need to listen to the farmers, because they're telling you what the solutions are," and how effectively they can be implemented in the fields.
Impact of $15/hour looms large
The anticipated approval of a $15 per hour minimum wage in California impacts the speed at which growers can replace human labor with mechanized and robotic tools. "We're moving into a new paradigm," said Koselka. "Suddenly the cost of robotics is cut in half. It takes half the time to pay for it, just because of the wage increase."
Choices in emerging technologies include soil predictive diagnostics, mechanized thinning, pruning, harvesting, autonomous vehicles and 24-hour work cycles.
Big data technology will deliver food safety solutions. Typically, when there is a problem with a food product, responsibility goes back to the farmer. But from field to consumer, food products are handled by many independent companies.
"When does the farmer quit owning liability?" asked Bart Walker, with Pacific Ag Rentals. "Who stored it, did it sit on the tarmac, did it come on a plane, did it get heat when the bag was opened, did the consumer wash his hands?"
"Transparency is going to happen," said Nathan Dorn, CEO of Food Origins, who predicted solutions to cross-correlate growers, harvesters, individual fields, all the way to the consumer.
Three minutes, ten pitches, two winners
The final session of the summit offered participants the opportunity to pitch a business or emerging idea to a panel of four expert judges. With tight time restrictions, ten teams presented diverse solutions to ag problems.
Winner of the best start up was Illucen. They tackled the problem of rising animal feed costs (a $350B annual industry) and diverted disposal of food waste (40% of all food produced is thrown away) by breeding and harvesting the black soldier fly, Hermetia illucens. The larva eat the food waste, the protein-rich mature grubs provide animal feed, and the larval castings are a soil amendment. The company currently develops small volumes at its production facility.
Winner of the best idea was Fish3 (Fish Cubed), which addressed the problem of regional food insecurity by designing an affordable, solar powered, modular aquaponic/aeroponic closed loop system for home and small business use. Families can grow their own food in a small footprint.
###
Jan Janes, Communications Director, Web Publisher, Television & Radio Producer, Photojournalist, Social Media Architect, can be reached on LinkedIn.
###
If you wish to republish this article, please follow our Terms of Use.
###
Tagged agtech, Hartnell College, Salinas Valley