Companies
Western Growers Tech Incubator Unveils New AgTech Initiatives during 3-Year Anniversary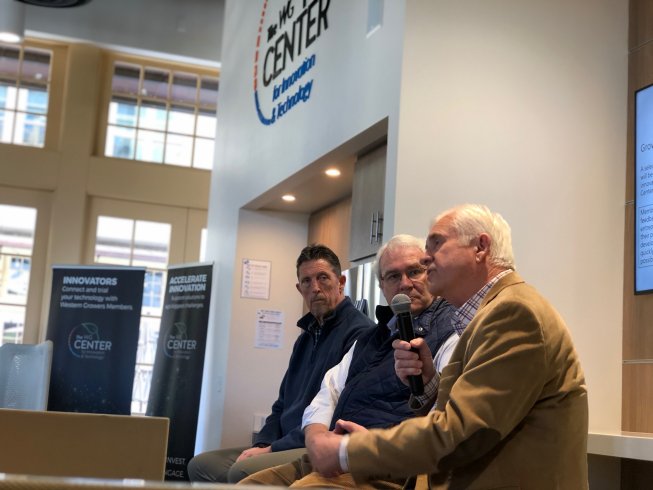 By Stephanie Metzinger
Western Growers
January 15, 2019 — Salinas, CA
(Photo above: During a fireside chat at Western Growers Center for Innovation & Technology's three-year anniversary event, Barry Bedwell of CA Agricultural Leadership Foundation, Dennis Donohue of Western Growers, and Hank Giclas of Western Growers, provide a "State of the Ag Industry" address, as well as discuss current and future challenges facing the agricultural industry. Contributed.)
[Editor's note: KSBW TV covered the milestone, noting that WGCIT grew from 6 to 50 companies in 3 years.]
The Western Growers Center for Innovation & Technology (the Center) celebrated its three-year anniversary earlier on January 10 with an exclusive event that included a fireside chat discussing the state of the industry, as well as a presentation to unveil WG's Grower Trial Network and Crop-Collaborative Initiative. The event — which was held at the Center in Salinas — drew more than 40 growers, agtech start-up companies, venture capitalists and ag stakeholders.
"You have to start thinking differently. You have to assume risk that you may not even be aware of previously. If you are not in the camp of 'we've always done it this way,' you are going to go out of business whether you know it or not," said Barry Bedwell, president of the California Agricultural Leadership Foundation, during a fireside chat which delved into the current and future challenges facing the agricultural industry. Bedwell was joined by WG Senior Vice President of Strategic Planning, Science & Technology Hank Gilas and WG Director of the Center for Innovation & Technology Dennis Donohue for the chat.
During the event, Giclas and Donohue shared how WG plans to integrate an "outcome-orientated" focus throughout all technology initiatives this coming year in 2019.
The new approach will be carried out through the following programs:
Grower Trial Network: A select group of WG members will be trialing and evaluating innovations coming out of the Center. Members will be providing feedback to the start-ups, so entrepreneurs can fine tune their product and bring it from development to market as quickly and effectively as possible.
Crop-Collaborative Initiative: The mission of the cross-collaborative initiative is to accelerate automation for all crops. The initiative will include activities such as the following:

 Global Collaboration: Convening game-changing innovators from around the world to share labor-saving technologies.
Robotics Collaborative: Working with the robotics community to learn about inventions that can potentially emulate the human function.
AgTechx Plus Road Show: Traveling to multiple key production areas within a couple of weeks to discuss automation needs and new labor-saving technologies.
The Center first opened its doors on December 10, 2015, with six agricultural technology start-up companies. In just three years, the Center has transformed into a hub of collaboration and innovation, now housing 50 startups. Five start-up companies have since "graduated" out of the Center.
###
Originally published here: https://www.wga.com/blog/western-growers-tech-incubator-unveils-new-agtech-initiatives-during-3-year-anniversary
###
Tagged agtech, Salinas, Western Growers