Companies
12 finalists announced for THRIVE Accelerator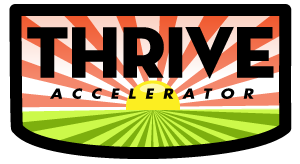 (Contributed)
March 24, 2016 — Salinas, CA
Select startups join the THRIVE Accelerator to hone their businesses, compete for investment, and win a prominent role at the Forbes AgTech Summit in July 2016.
Twelve of the most innovative startups in AgTech and Food Tech have been selected to participate inthe THRIVE Accelerator beginning in April in Salinas, California. 36 startups from Ireland, Israel, Italy, Spain, UK and from across the U.S. pitched their technology, team, and vision for growth at the THRIVE Accelerator's Seed Camp yesterday. The initiative is driven by SVG Partners. THRIVE sponsors include leaders in both agriculture and technology: Western Growers Association; Land O' Lakes; Taylor Farms; Verizon and the City of Salinas. The event was hosted at the new Taylor Farms Headquarters in downtown Salinas.
Each pitch was scored by a diverse group of senior judges drawn from agriculture; technology sectors; financial and investment groups; and universities. This included experts from Dole Fresh Vegetables; Taylor Farms; Land O'Lakes; Western Growers Association; Verizon; Wells Fargo; SAP; Alvarez Technology Group; Royal Rose; Crestlight Venture Productions; UC Davis and California State University, Monterey Bay.
Representatives from these industry-leading organizations and universities will mentor the Finalists during the THRIVE Accelerator from April 4 through May, 2016.
"We have been impressed with the quality of the startups presenting at yesterday's THRIVE Seed Camp," said Hank Giclas SVP, Science, Technology & Strategic Planning of Western Growers Association and a THRIVE Accelerator Mentor "The doubling of applicants for this second edition confirms we're building around THRIVE and WGA's Center for Innovation and Technology a strong ecosystem of AgTech innovation."

"The Agriculture and Food industry is facing incredible challenges nowadays and our partnership with THRIVE Accelerator is a great opportunity to meet global entrepreneurs committed to bringing innovation and solutions to this market," said Michael Toto, director at Verizon IoT Global Product Development & Strategic Planning and newly selected THRIVE Accelerator Mentor. "We have met many THRIVE startups, focused at the intersection of IoT and Agriculture, where Verizon is already set up to bring great value and solutions."
The THRIVE finalists' experience culminates with a final Demo Day on June 9, 2016. Special awardees from the Demo Day will be prominently highlighted during the Forbes AgTech Summit on July 13 and 14, 2016 in Salinas; and will compete for funding and the chance to deploy their technology at one of the industry's top companies.
"Leveraging the technology expertise in Silicon Valley and the agriculture expertise in Salinas, THRIVE is an ecosystem that is bringing together a global network of innovators, entrepreneurs, researchers, as well as technology and ag companies," said John Hartnett, CEO of SVG Partners. "This Accelerator is bringing some incredible energy and disruptive innovation to one of the world's most important industries. All the entrepreneurs that have pitched today are drawn together by the opportunity that arises from a huge challenge: feeding the world, sustainably."
About THRIVE Accelerator
THRIVE Accelerator is a highly selective mentorship and investment program for AgTech and FoodTech startups. For this 2016 edition almost 200 applications have been received from 35 countries around the world. 36 applicants from 16 business areas have been chosen to pitch their companies to a selected list of judges and experts. The 12 finalists selected will benefit from an 8-week acceleration program based on high-level mentorship, collaboration and direct access to the world's top fresh agriculture companies in and around Salinas and the central California growing region. The THRIVE Accelerator Program is conceived and led by SVG Partners. http://www.thriveaccelerator.com
About SVG Partners
Silicon Valley Global Partners (SVG Partners) is an investment, technology and advisory firm that partners with organizations on strategy, innovation and global expansion. http://www.svgpartners.com
###