Companies
Tomorrow's tech you can use today: annual summit highlights commercially relevant agtech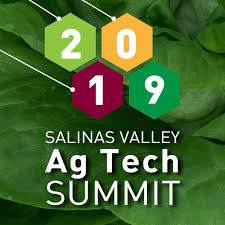 By Patrick Reilly, Esq. and Clio Mykland
Special to Santa Cruz Tech Beat
April 2, 2019 — Salinas, CA
The Sixth Annual Salinas Valley Ag Tech Summit, co-presented by Hartnell College on Wednesday, March 27, showcased numerous grower-ready, matured products and services offered by technology providers. The summit reinforced a general perception that a myriad of accessible technologies are creating an environment for innovation that increasingly enables rapid concept-to-table implementation of deployable AgTech tools and processes. The more than seven individual session speakers and five panels generally emphasize the applicability of the newest AgTech in the context of specialty crops and the more standard crops of particular relevance to the Monterey Bay Region and Salinas Valley.
Tomorrow's Technology You Can Use Today
Participants in the exhibitor area powerfully reflected the intended direction of the summit's theme of "Tomorrow's Technology You Can Use Today," wherein more than 80 exhibiting vendors addressed a diverse variety of grower and food chain participant areas of concern, to include the future of agriculture; the applicability of new technologies such as drone data collection and observation, data communication handling, blockchain encoding, food chain automation, field materials input management and control, to include water use, and remote sensing systems applied to the growing and distribution of quality produce; and the latest innovation in methods for ensuring food safety and reducing pesticide delivery related to safeguarding crops from weeds and pests. The exhibitors included a broad spectrum of goods and service providers, such as workforce development venture Digital Nest, and marketing services and software vendor TMD Technology Solutions/TMD Creative Services.
Outstanding speakers from all over the Western United States
Nicholas "Nick" Pasculli, Chairman of the Salinas Valley Ag Tech Summit for this year and last, and President & CEO of TMD Technology Solutions, Inc., judged that this 6th annual staging of the summit offered the best results to date. Nick noted that this year's summit presented a wide variety of outstanding speakers from all over the Western United States, including local and California experts, and AgTech practitioners and researchers from several trade associations and institutions of higher education.
"The caliber of the education portion of the summit was second to none," said Nick Pasculli. "Timely issues were discussed in an effort to make California Agriculture more efficient and more sustainable. This year we had well over 800 registered attendees and close to 100 pest control advisors that came for continuing education credits. This is developing into a regional event that is good for the community, the industry, students and the college."
The future of the California workforce
Willard C. Lewallen, president and superintendent of Hartnell College, moderated a panel discussion regarding the future of the California workforce, including statewide administrative officials and representatives from three other California universities as panelists. The summit content was further enriched by additional scholars of agriculture-related fields of study, including on its schedule of speakers faculty members from the University of California, Cal Poly, CSU Monterey Bay and Fresno, and of course, Hartnell College. Several University of California Cooperative Extension Faculty members gave educational presentations on experimental trials in managing weeds, insects, and diseases. Dr.
Enabling STEM student
Joy Cowden, Hartnell's Director of SMI and MESA and STEM Internship Programs, enabled local Science Technology Engineering and Math ("STEM") students to present a diverse set of internship posters. Joy explained that, "Hartnell College STEM and agriculture programs work together to prepare students for the agriculture related high tech careers in the Salinas Valley."
GPS technology, mapping applications, and big data
Summit attendee Sean Hogan, Academic Coordinator for the University of California's Division of Agriculture and Natural Resources, was especially heartened by the interest in and demonstrations of adapting and integrating spatial technologies into various focused needs of several agricultural environments. Sean asserted that start-up costs associated with the integration of GPS technology, mapping applications, and big data interpretation are continuing to decline and thus making adoption of these areas of innovation increasingly affordable in many venues of agricultural practices and management. He further held that these increasingly suitable venues of spatial technology use include multiple aspects of agricultural operations, such as the development of site-specific efficient resource use in view of financial limitations, crop yield tracking, crop estimation, and precision agriculture application.
"In particular, it is exciting to see these new spatial technology services enabling earlier and more precise detections of pest infestations that allow more precise deployment of pesticides in smaller volumes," added Hogan.

Drone Solutions
Chris Bley, CEO of Insight Up Solutions, a drone solutions provider exhibiting at the summit, advanced that, "this gathering demonstrated that the Ag and Tech communities are coming together in many profound ways to address the particular needs of growers of different crops operating in varying environments."  Chris observed that the integration by software of distinct streams of data is a critical integration area to be resolved by AgTech vendors and value-added resellers. In addition, Chris feels that the integration of asset allocation in response to decisions made on the basis of information technology is an equally dynamic area of AgTech innovation.
More information regarding this Salinas Valley Ag Tech Summit can be found at:
###
Patrick Reilly, Esq. is the Founder of IP Society.
###
Tagged agtech, Hartnell College, Salinas