Companies
Drone Hub is growing in Monterey Bay region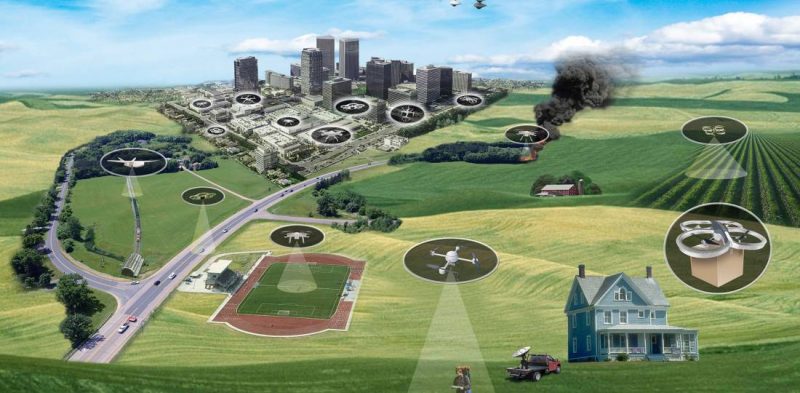 By Patrick Reilly, Esq.
Founder of IP Society
Special to Santa Cruz Tech Beat
December 3, 2018 – Seaside, CA
Hearing about the growing local drone industry was one of the highlights of MBEP's recent State of the Region Conference
A constellation of parties native to or presently pouring into the Monterey Bay area are growing in confidence that our local communities are uniquely resourced and advantageously located to become a global center for both drone development and, of perhaps greater import, drone production.
Early evidence of our local momentum in nurturing the drone industry includes leadership provided by the Fort Ord Reuse Authority (FORA) in timely establishing the Monterey Bay Drone, Automation & Robotics Technology (DART) Initiative, the vigorous engagement of the management of the Marina Municipal Airport in relevant economic development planning, the mushrooming of AgTech systems trials in the petri dish of the Salinas Valley, and the expanding cooperation of numerous educational leaders in proactively organizing to address near-present drone industry workforce needs.
A lively discussion of the dynamics and rapidly approaching challenges of a growing drone industry was energized by Josh Metz of FORA/DART at a breakout session of the 2018 State of the Region Conference produced by the Monterey Bay Economic Partnership last Friday. A visual reference to the currently pending employment needs webpage of Joby Aviation published at http://www.jobyaviation.com/#join-us set the tone by concretely indicating the immediate needs of just one vertical lift off and landing vehicle market entrant. FORA Executive Officer Michael Houlemard brought particular clarity to our communities' need to educationally prepare, house and retain a diverse and necessarily growing population having a broad spectrum of skills and knowledge sets. A representative of Grand Sky ND, the first and only fully operational commercial unmanned aerial systems (UAS) research and development park in the United States expressed an opinion that the predominant unmet need for industry expansion could possibly by workers with trades skills, such as electricians and UAS repair technicians. Other voices noted that many UAS ventures are quickly developing needs for big data management, wherein terrabytes of data will soon be separately generated for analysis by networks of UAS users.
Josh Metz observes that, "with our moderate climate, proximity to Silicon Valley, the Pacific Ocean, and thriving agriculture in Salinas Valley, the Monterey Bay Region is well positioned to host a drone and aerospace innovation cluster. We [at the DART Initiative] are working to align communities, industry, academia, and government around this potential and realize long dreamed of high-paying, engaging jobs growth on the former Fort Ord and beyond."
Monterey Bay locations of particular interest to UAS industry facility expansion planners include the Marina (City) Airport, the Monterey Bay Academy, Fort Hunter Liggett, and several properties of the University of California Monterey Bay Education, Science and Technology Center. As listed by Josh Metz in a recent blog post at https://ordforward.org/monterey-bay-dart/, FORA has brought together in the DART Initiative a robust multi-sector community of interest including:
University of California
University of California, Santa Cruz
University of California, Agriculture & Natural Resources
California State University Monterey Bay
Fort Ord Reuse Authority (FORA)
City of Marina
Monterey Bay Aquarium Research Institute
Airspace Integration
Joby Aviation
GrandSkyND
and other parties.
Jeff Crechriou, Airport Services Manager of the Marina Municipal Airport, cautions that a myriad of policy, regulatory and airspace management issues must be resolved to the satisfaction of several authorities and stakeholders before any airport can share airspace with a mix of civil aviation aircraft, commercial aircraft, air taxi operations, and UAS/drone equipment. Nevertheless Jeff emphasizes that, "The city of Marina and the Municipal Airport are excited about the economic development opportunities that air taxi and drone technology could provide to the community and the Monterey Bay Region."
More locally relevant information regarding DART and UAS/drone developments can be found at  MontereyBayDART.org
###
Tagged DART, Drones, FORA, MBEP, Patrick Reilly