Companies
Santa Cruz Tech Beat's Sara Isenberg Connects the Dots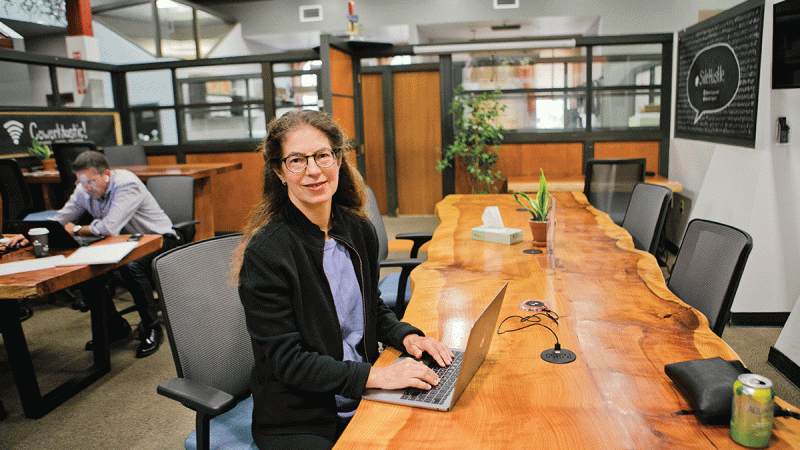 By Wallace Baine
Good Times
August 15, 2018 — Santa Cruz, CA
(Photo above: Former tech consultant Sara Isenberg's Santa Cruz Tech Beat has grown along with the local startup scene. Credit: Keana Parker)
Five years in, the tech-oriented news site is decoding the latest scuttlebutt
Five years ago, then-Santa Cruz mayor Hilary Bryant knew that there was a healthy tech start-up culture really starting to bloom in Santa Cruz, but she didn't feel she knew as much about it as she should have.
As a part of the city's business retention efforts, Bryant remembers visiting the offices of Looker, the data-analytics company that today is one of Santa Cruz's most prominent homegrown businesses.
"It was probably six or seven people in the small office in the back of the Cruzio building," she says "I kept thinking, 'I know you guys are doing something cool, but I have no idea exactly what you're doing.'"
At the time, the tech industry in Santa Cruz was growing largely outside of notice, so much so that the city's mayor had to rely on rumor and scuttlebutt to figure out who was doing what.
The timing could not have been better for Sara Isenberg, and her idea to provide centralized coverage of Santa Cruz's tech sector at a new website she called Santa Cruz Tech Beat. Isenberg showed up at the mayor's office with exactly the solution to her problem.
Continue reading article here: http://goodtimes.sc/santa-cruz-news/santa-cruz-tech-beats-sara-isenberg-connects-dots/
###
Tagged Sara Isenberg