Companies
Five Years of Local Tech Storytelling: a Conversation with Santa Cruz Tech Beat Founder Sara Isenberg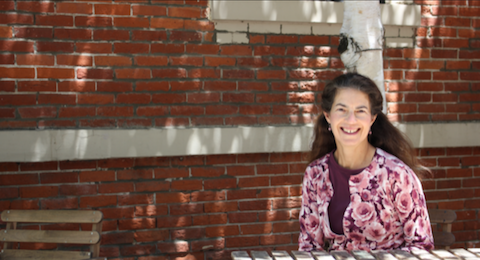 By Cat Johnson
For Santa Cruz Works
July 24, 2018 — Santa Cruz, CA
(Photo above: Sara Isenberg is the Founder, Publisher, and Editor-in-Chief of Santa Cruz Tech Beat. Credit: Steve Yatson)
In 2013, Margaret Rosas and Sara Isenberg, two local tech insiders, had a conversation about the need for someone to tell the stories of the tech scene in Santa Cruz. The conversation stuck with Isenberg and proved to be the seed idea for Santa Cruz Tech Beat.
Originally a weekly email digest, Tech Beat has grown into a multi-faceted platform for the local tech community and become a core part of the Santa Cruz ecosystem. Few things tech-related escape founder and editor Isenberg's attention. The publication has grown to include an events calendar, jobs listings, a business catalog and an archive of news, articles and information about tech companies and projects in Santa Cruz—all while remaining true to the original vision.
"I knew Tech Beat was something I could do that would help the community," says Isenberg. "And it's not that far from the original idea of a digest, it's just that there's more variety: original content, jobs, Q&As and events."
Now celebrating its fifth anniversary, Tech Beat boasts 242 digests and 1,171 articles. It's grown from Isenberg's original vision as a "thing [she] could do on the side," into an almost full-time job.
As Rosas predicted in that original conversation, there was very much a need for local tech enthusiasts to keep up with news and current events. Tech Beat has proven to be the go-to source for tech enthusiasts, as well as an information library for those with a peripheral interest in tech in Santa Cruz.
Continue reading article here: http://www.santacruzworks.org/news/five-years-local-tech-storytelling-conversation-santa-cruz-tech-beat-founder-sara-isenberg
###
Tagged Sara Isenberg